One thousand numbers gone. (03/09/2011)
Jizerska 50 packs them in even in summer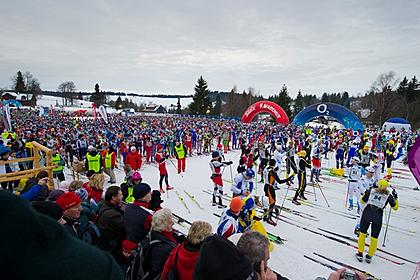 Jizerska 50 has again the ambition to sell out for its 45th contest which will take place on 6-8 January 2012, although the organizers have succeeded in negotiating an increase in the limit on the number of participants in all the races. This does not mean in any case that it is worthwhile to wait with the registration.
"Last year we ranked alongside Vasaloppet, Birkebeiner and Marcialonga, which are regularly sold out long in advance. And because they are full up again, we want to pick up foreign competitors who did not manage to take part in those races," says Tomas Leixner. "There's tremendous interest in Scandinavia – we have already, together with the Norwegians, Fins and Swedes, half the numbers for last year. Their travel agencies booked at the beginning of the summer several hundred places."
The registration fee for the 50 kilometre main race is normally 40 EUR and is available to the competitors until the end of September; then the fee will increase to 56 EUR. Thanks to the campaign Recommend and Race for free aiming to enlist newcomers it is possible to compete for free. On-line registration is possible at http://www.jiz50.cz.
The organizers prepared in association with the travel agency CEDOK special starting packages for participants from abroad to help the racers with the registration as well as accommodation and all transfers, including air tickets. For more information visit http://www.cedok.com/jizerska50.
Jizerska 50 grows in stature every year: Whereas 4 680 racers took part in all the races in 2008, 5 000 participants crossed the threshold in 2010 and more than 5 800 runners competed in the last race. The television coverage of the event was watched by more than 2 million viewers all over Europe this January.
MARCIALONGA, Loc. Stalimen, 4 - 38037 Predazzo (Tn) Italy, Ph. +39.0462.501110 | Fax. +39.0462.501120 | P.Iva 01344240229 | @contatti | impressum
Iscrizione presso l'ufficio del Registro delle Imprese di TRENTO n.131497 del 15/11/1991 | Cap. Soc. versato risultante dall'ultimo bilancio: €3201,99
All rights about any content of this website reserved © Marcialonga, Reproduction prohibited without express permission.
Graphic design and development:
Juniper Extensible Solutions