Team Exspirit selects Oskar Svärd as Team Captain! (27/04/2012)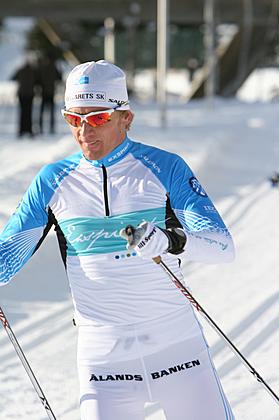 The long distance ski team Team Exspirit continues its mission to develop cross country skiing, by selecting one of their star athletes, Oskar Svärd, as their Team Captain. The Team Captain in Team Exspirit will lead the athlete group with ambitions and positive character. Oskar Svärd is one of the most successful long distance skiers of all time with victories in Vasaloppet, Marcialonga and Jizerska Padestaka among others. Oskar will next season make an attempt to win his fourth Vasaloppet tile, but also the Ski Classics Champion title.
- This new position in Team Exspirit will evolve the groups professionalism in front of Ski Classics 2013, and selecting Oskar was natural, he is an outstanding athlete and personality! Says David Nilsson Team Director Team Exspirit.
- This is a great trust from the team and a very inspiring position. I will work hard to move Team Exspirit forward in best possible way, says Oskar Svärd.
Picture by Magnus Östh
MARCIALONGA, Loc. Stalimen, 4 - 38037 Predazzo (Tn) Italy, Ph. +39.0462.501110 | Fax. +39.0462.501120 | P.Iva 01344240229 | @contatti | impressum
Iscrizione presso l'ufficio del Registro delle Imprese di TRENTO n.131497 del 15/11/1991 | Cap. Soc. versato risultante dall'ultimo bilancio: €3201,99
All rights about any content of this website reserved © Marcialonga, Reproduction prohibited without express permission.
Graphic design and development:
Juniper Extensible Solutions