The Soreghina 2013 has been elected (01/08/2012)
She will be the Kranskulla of the 40 Marcialonga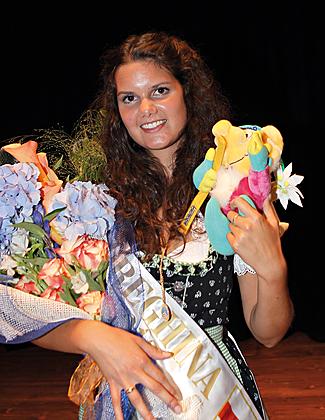 Since 2002 a girl from the Communities of Fiemme and Fassa is called up each year to keep alive the ancient legend of the Princess of the Dolomites, becoming this way an ambassador of the Marcialonga universe.
Soreghina is the symbol of beauty and spirit, of the atmosphere and soul of the events of Marcialonga, and she is the one who put the laurel crown on the winners' neck at the finish line, always present at the official ceremonies.
In the evening of the 31st of July 2012, in Canazei, where the Marcialonga course turns back after 18 km, the new "daughter of the sun" was elected.
Arianna Iori will be the Soreghina, the ambassador of the three events of Marcialonga: Marcialonga Running that will be held next month of September, Marcialonga cross-country skiing on the 27th of January and Marcialonga Cycling Craft on the 26th of May, 2013
Arianna is 24 years old and she lives in the village where she has been elected, in the upper part of Val di Fassa, at the foot of the most beautiful mountains of the Dolomites: the Marmolada, the Vernel, the Sassolungo, the Pordoi and Sella passes. She has two university degrees based on foreign and modern languages and tourism and she speaks fluently English (one year at the Columbia High School in Portland, United States), Estonian (one year in Tallin), Russian (Summer 2010 in Moscow and Summer 2011 in Saint Petersburg), besides her mother-language, the Ladin, recognised and safeguarded as indigenous language of Val di Fassa.
There where 8 candidates: Arianna, Andrea, Giada, Margherita, Martina, Sabrina, Silvia and Petra, all coming from the different villages of Fiemme and Fassa valleys, but Arianna has been elected by the jury formed by Alfredo Weiss, President of Marcialonga O.C., Ivano Cloch, Mayor of Canazei, Giuseppe Zorzi Director of the Magnifica Comunità di Fiemme, the entity sponsoring the event, Enzo Iori, President of Val di Fassa Tourism Board and Flavio Delvai, councillor of the Val di Fiemme Tourism Board, Mrs. Cristina Donei, representing all municipalities of Val di Fassa, Mrs. Marika Terraneo, director of the local TV network, Mrs. Piera Ciresa, President of the Foundation for organs donations, the two representative of the main Marcialonga partners, Casse Rurali Trentine and Itas Assicurazioni and the Olympic Champion Cristian Zorzi who sincerely expressed the desire to win Marcialonga and to get the laurel crown from Arianna's hands.
« Back to previous page
MARCIALONGA, Loc. Stalimen, 4 - 38037 Predazzo (Tn) Italy, Ph. +39.0462.501110 | Fax. +39.0462.501120 | P.Iva 01344240229 | @contatti | impressum
Iscrizione presso l'ufficio del Registro delle Imprese di TRENTO n.131497 del 15/11/1991 | Cap. Soc. versato risultante dall'ultimo bilancio: €3201,99
All rights about any content of this website reserved © Marcialonga, Reproduction prohibited without express permission.
Graphic design and development:
Juniper Extensible Solutions