MARCIALONGA CYCLING CRAFT & GIRO D'ITALIA (29/11/2011)
3 DAYS OF CYCLING NOT TO BE MISSED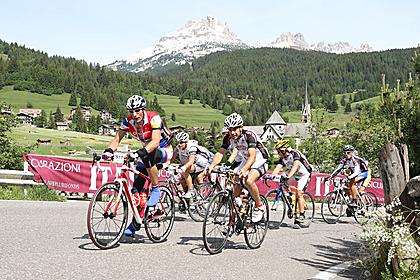 In these days the attention is on the winter sports, in particular on the Nordic Ski thanks to the cross-country World Cup and the Ski Jumping and Nordic Combined competitions starting.
During the press Conference in Kuusamo (Finland) Petter Northung confirmed his willing to participate in the Marcialonga 2012 on January 29th.
However the Marcialonga Organising Committee is not concentrated only on the winter season, but also on the Marcialonga Running (September) and the Marcialonga Cycling Craft that will take place in the spring season.
Marcialonga Cycling Craft reached last edition the important goal of 2.111 cyclists at the start-line and for next event it will reserve great surprises: on Friday the 25th of May 2012 the Pro cycling tour Giro d'Italia arrives in Val di Fiemme. This is one of the hardest stage of the tour that will climb twice the Alpe di Pampeago, epic theatre in the past in the world of pro. Two days later, the long week-end entirely dedicated to bicycles will continue with the 6th Marcialonga Cycling Craft.
The short race (1.894 meters total climb with maximum gradient 18,2%) is going to pass at Lavazé and Stava di Tesero, same route as the Giro, while the long race (3.279 meters total climb, max height 2.038 meters and with maximum gradient 19,2%) will go on and touch the San Pellegrino and the Valles pass.
For this unrepeatable moment that combines pro and amateurs, there is a special offer created by the Val di Fiemme Tourist Board called "On the trail of the champions". The goal is to promote the event to the cyclists and supporters, enjoying the two competitions and the beauty of the Dolomites.
The package is available for two or three nights and can be seen on: http://www.marcialonga.it/marcialonga_cycling/index_en.php clicking on ROAD BIKE 2012.
« Back to previous page
MARCIALONGA, Loc. Stalimen, 4 - 38037 Predazzo (Tn) Italy, Ph. +39.0462.501110 | Fax. +39.0462.501120 | P.Iva 01344240229 | @contatti | impressum
Iscrizione presso l'ufficio del Registro delle Imprese di TRENTO n.131497 del 15/11/1991 | Cap. Soc. versato risultante dall'ultimo bilancio: €3201,99
All rights about any content of this website reserved © Marcialonga, Reproduction prohibited without express permission.
Graphic design and development:
Juniper Extensible Solutions