Team Exspirit continues its internationalization (08/05/2012)
...and signs Nicola Morandini ITALIA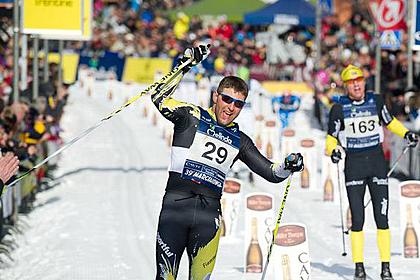 The Swedish based long distance ski team Team Exspirit continues its preparations for Ski Classics 2013 season and signs the Italian skier Nicola Morandini. Nicola is 28 years old and has proven to be the best Italian long distance skier, finishing 7th at Marcialonga 2012 and 2010, 13th at Vasaloppet 2011. Nicola has strength in classic technique and is based in Val di Fiemme, where Marcialonga takes place. Mr Morandini will meet his new team colleagues for the first time at the upcoming Team Exspirit training camp in Montenegro, May 10-19th.
- Joining Team Exspirit is a great opportunity for me and my future as a long distance skier. It will be a educating experience learning from the best in the world and has given me the opportunity to focus on what I want, says Nicola.
- Nicola is a muscularly very strong skier and runner and he has proven that he can manage the full distance of long distance ski races, as a person his mindset is dedicated and focused on long distance skiing, which makes him fit well into the values of Team Exspirit. The fact that Nicola is Italian is also important in Exspirits strive to become an international team. Says Team Director David Nilsson, and he continues " Continue to follow Team Exspirits homepage for more interesting news to soon be released…"
MARCIALONGA, Loc. Stalimen, 4 - 38037 Predazzo (Tn) Italy, Ph. +39.0462.501110 | Fax. +39.0462.501120 | P.Iva 01344240229 | @contatti | impressum
Iscrizione presso l'ufficio del Registro delle Imprese di TRENTO n.131497 del 15/11/1991 | Cap. Soc. versato risultante dall'ultimo bilancio: €3201,99
All rights about any content of this website reserved © Marcialonga, Reproduction prohibited without express permission.
Graphic design and development:
Juniper Extensible Solutions