MARCIALONGA'S VICE PRESIDENT ANGELO CORRADINI (18/06/2012)
RE-ELECTED AS WORLDLOPPET'S SECRETARY GENERAL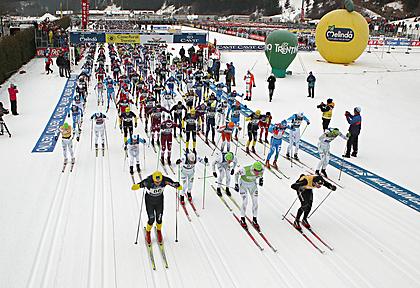 Corradini stays in charge until 2016
Marcialonga has been a Worldloppet member for over 30 years
Italian long distance XC race will celebrate its 40th edition in 2013
Russian Demino Ski Marathon joins the Worldloppet family
Annual General Meeting of Worldloppet - international sports federation of cross-country skiing marathons - took place in Tartu (Estonia), from June 14th to June 17th. Some important decisions were taken during the past week-end such as the re-election of Angelo Corradini as Secretary General for the next four years. Corradini is also member of the Nordic Ski Fiemme 2013 OC and is the first Worldloppet's Secretary General to be elected three times in a row, serving from 2004 to 2016.
The Marcialonga management board has also expressed deep satisfaction at the announcement, as Corradini is also vice-president of the famous Italian ski marathon. In 2013, the long distance XC race in Val di Fiemme and Val di Fassa (Trentino region) will celebrate its 40th edition, and Marcialonga has been part of the Worldloppet calendar since the federation was born in 1978.
Today Worldloppet consists of 16 ski marathons from all over the world including races in Asia, America, Australia and Europe. During last several years over 100.000 people per season have participated in Worldloppet marathons. At the Estonian meeting, Russian Demino Ski Marathon was officially included as the newest member of the Worldloppet family.
Info: www.marcialonga.it
MARCIALONGA, Loc. Stalimen, 4 - 38037 Predazzo (Tn) Italy, Ph. +39.0462.501110 | Fax. +39.0462.501120 | P.Iva 01344240229 | @contatti | impressum
Iscrizione presso l'ufficio del Registro delle Imprese di TRENTO n.131497 del 15/11/1991 | Cap. Soc. versato risultante dall'ultimo bilancio: €3201,99
All rights about any content of this website reserved © Marcialonga, Reproduction prohibited without express permission.
Graphic design and development:
Juniper Extensible Solutions