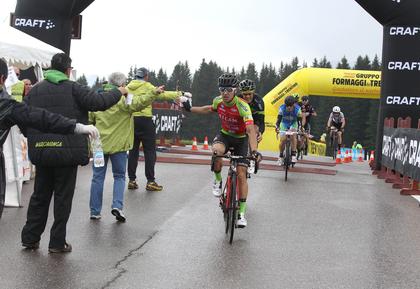 Trentino-SouthTyrol region is well-known in Italy for its hospitality and high-quality services. The Organizing Committee members makes an amazing effort offering to the athletes useful and efficient services which bring to an unforgettable experience of the Fiemme and Fassa valleys' Granfondo.
This year, each rider will find the following items in the race bag: the personal number and a renovated sticker to put on the bike during the race: the new sticker clearly illustrates all the available services along the road and elevation details, both for the Medium and Long distance; in this way it is possible to check the pace in order to be well prepared for each refreshment and technical and health assistance points, facing the entire race without troubles. (LOOK AT THE SERVICES' MAP>)
There will be a total of five technical assistance points, with the first at the start and the second just outside Predazzo village, to remedy the unexpected inconvenience. Marcialonga, as always, puts its focus on riders' safety ensuring a well-signaled course with the crossroads controlled by police forces and numerous volunteers. Volunteers are definitely the distinctive trait of this organizing machine: from refreshments along the course to crossroads controlling, through the race office and side events for children and pasty party. They will follow the athletes with a big smile. Moreover, to better face the unpredictable mountain weather, also for this edition it will be possible to have the "changing bag", leaving it at the start in Predazzo with a warm and dry change that will wait the participants at the Jumping Hill of Predazzo. Here, who will go for the 135 k Granfondo, can replace the clothes in a repaired place and finish the race with no worries through the Dolomites. Once the finish line will be crossed, many services will be available: it is possible to find a bike safekeeping and relax with a regenerate massage or head to the pasta party for the recovery. It will be possible to enjoy the lunch together with a friend or relative, thanks to two lunch coupons for each competitor (people who suffer from celiac disease have to make a request to info@marcialonga.it within Monday, May 27Th).
back to list