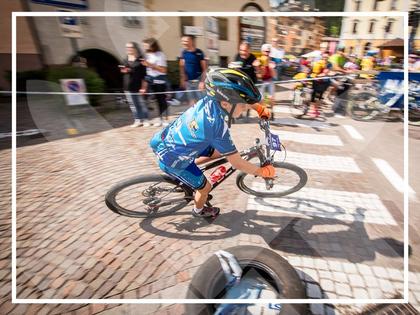 There is an Italian song for children that sings "Ride on a mountain bike, you'll see how much fun it is!" That is true – it is a lot of fun to ride on the two wheels, especially if the track hides many little obstacles to face with ability and if there are many other children facing this adventure on your side!
Minicycling is a promotional event on Mountain bike that is taking place in the center of Predazzo and that is part of the Minibike circuit of Val Fiemme, Fassa and Primiero. There are many news for this 7th Edition, starting with the date: the children's race which usually opens up the weekend of Marcialonga events on Saturday, this year is going to be on Friday 31st May starting from 5 PM.
The track consists in a funny obstacle ride in the streets of Predazzo, where the children will ride more loops according to their age, and so the technical level of the obstacles will adapt according to the category.
Participation is open to children up to 16 years, divided into categories according to the year of birth. Registrations are possible on spot starting from 3 PM, at the race office in the main square Piazza SS. Apostoli.
Once the effort is over, fun continues at the Sporting Center of Predazzo where the Pasta Party will take place (NEWS 2019!) At the same time also the prize-giving ceremony will be held there, where not only the first three kids of each category will be awarded, but also every child will receive a special goodie bag to celebrate once again a beautiful afternoon of sports and friendship!
Discover more about Minicycling»
back to list