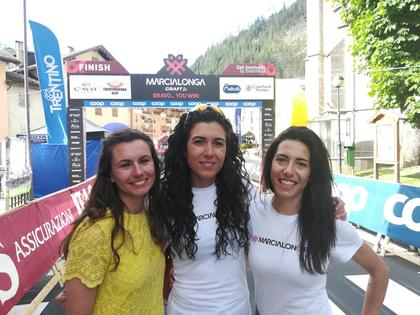 ONE YEAR "MARCIALONGIRL"
One year has passed since Marcialonga launched MarcialonGirl, the project dedicated to all women and sports, a community that was born to inspire women under the motto "if you want, you can do it!"
We choose three ambassadors to face the three Marcialonga: one different from the other, with different approaches and ambitions but bound by passion and the strenght to face the races. Enrica, Cristina and Karen told their experience on their Instagram and Facebook profiles, sharing emotions, fears and the big satisfacion. We let them tell us what one year "MarcialonGirl" was like.
WHAT DID IT MEAN TO BE A MARCIALONGIRL?
ENRICA
It was a big honour to talk for all those women that wish to face a sports challenge even if they are no athletes. Sharing all my trainings on social media I could show my efforts and consequence and with the right state of mind, everyone can make it! And crossing the finish line was the confirmation.

CRISTINA
To be aware that, as a woman, "if you want, you can do it!" A big message that the project realises in the sports field, but that we apply every day in our routine even without noticing. You need to find the time to be consistent, which is not easy, but that makes us reach the goal. At Marcialonga it is not the result that counts, everyone at the start has already won!
KAREN
To inspire! I wanted to encourage "normal" women who love sport and have a busy life like me (I am a mother, a woman and worker with less free time) to get in the game, and work towards a goal. It seems utopic to be able to pursue a passion, but the willpower is a strong weapon and can bring to big satisfactions! Reaching the Marcialonga finish-line was the accomplishment of my mission and I managed to impart a strong message. If I can do it, every woman can do it, no matter if fast or slow, the important is to finish! Having said that, next year I will face also the Marcialonga Craft cycling event!

DESCRIBE MARCIALONGA WITH 3 WORDS
ENRICA
An enthusiastic, hard conquer

CRISTINA
Landscape, Commitment, Satisfaction

KAREN
Nature. Top Organization (following Trentino's standards). A fake downhill (that fouls you, but makes the track unique)
WHAT WILL YOU TREASURE THE MOST OF THIS EXPERIENCE?
ENRICA
The satisfaction to realise that not only the first deserve being celebrated! At Marcialonga everyone is a hero and is cheered up from start to finish. And as a Marcialongirl Ambassador I felt my venture and my arrival even more special. As if all the women who followed me had arrived with me!
CRISTINA
For sure the new friendships! People that go through the same experience have something in common and cannot but get well along with each other! I am convinced that the values you believe in, are even stronger if shared and give you more enthusiasm and the will to do things.
KAREN
The feedback of the other women both when training, during the race and after it. The messages, the kind words at the finish, the support and the fact that I convinced many of them to participate
WILL YOU TAKE PART AGAIN TO MARCIALONGA?
ENRICA
Sure, I will be in Moena at the start on January 26th!
CRISTINA
For sure!
KAREN
Of course! I can't wait for it.
WE ARE LOOKING FOR THE 2020 MARCIALONGIRLS!
The MarcialonGirl project is not stopping here! Keep on following Enrica, Cristina and Karen because we will see them again at the start line of Marcialonga!

WE ARE NOW LOOKING FOR THREE NEW AMBASSADORS FOR 2020. WHY DON'T YOU TRY?

Are you passionate about Marcialonga and you like to share your experiences on Social Network? Then you coul be the right one! You need to:
Participate to Marcialonga in your favourite sport (XC-ski, road-bike and running)
Be passioante about sport
Have a social profile and be active on it
Share your trainings, thoughts and of course your Marcialonga experience
If you think you have this all, send us a mail to info@marcialonga.it with the topic "MarcialonGirl 2020"
back to list