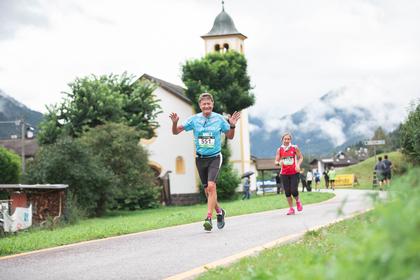 Running benefits are numerous concerning in general to our psychophysical well-being.
Running helps us to maintain a good shape, to prevent heart diseases and it is a real cure-all at pathological level reducing our stress and enhancing the good humor.
There are multiple studies which underline running advantages and we can certainly confirm that they grow every time the activity is done in an excellent natural environment like Fiemme and Fassa Valley. Beyond the running privilege, the eco-friendly ones add to the mix, as the clean air, the absence of annoying sounds, the calm of colors and landscape's melody.
The possibility to run in the middle of nature is not for everyone but doing it even in few occasions is excellent. One of these opportunities could be to take part at Marcialonga Coop scheduled for Sunday, September 1st.
We have just mentioned the psychophysical benefits, but it is a must to describe also the competition's advantages.
Being part of a race means participate in a healthy contest, first of all with yourself, but also fixing a goal trying to reach it giving your all: the satisfaction of passing the finish line is one of the most adrenaline sensation for each runner, in both cases of an amateur or pro. Moreover, competitions are meeting points of friendship, experiences sharing and happiness.
Running the Marcialonga Coop brings people in its landscapes, between woods and fields at the feet of the majestic Dolomites. From Moena to Cavalese is a succession of sceneries where green, the color of vitality and balance, dominates. For 22 kilometers the legs flow quickly thanks to the constant slight downhill (LOOK AT THE COURSE >). The advice for all the runners is to maintain some energy in order to better face the final climb, a fascinating uphill which retraces the panoramic road of the old railway, just before the heroic final straight line that marks k 26.
At the start there will be also this year Karen Pozzi, a sport blogger and mum that, through the project MarcialongGirl (DISCOVER MORE >) wants to inspire women to fix their goal with the motto "If you want, then you can".
If the length could get you scared, it is possible to choose for the relay version together with other two team mates; an occasion to share the effort and multiply the satisfaction. (DISCOVER MORE ABOUT THE RELAY RACE >).
Weel-being, nature, satisfaction, friendship and a small holiday in a paradise corner. That is what Marcialonga Coop offers and that is why the invite is to play the game making immediately the registration. Get Involved by Dolomites.
back to list