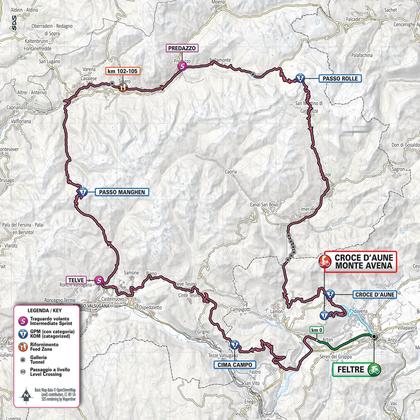 There is less than one month left for Marcialonga Craft and the atmosphere turns more and more excited, especially with this year's special edition. Not only Marcialonga entered the Prestigio circuit, renewing its track with two new exciting climbs and so two new challenges for the bikers, but amongst the side-events of the weekend there is particularly one worth being mentioned: the 20th Stage of Giro d'Italia from Feltre to Croce d'Aune, will pass through Val di Fiemme on Saturday 1st June, passing through the village of Predazzo, base of Marcialonga Craft.
For the riders in Predazzo in occasion of the Trenino Granfondo il will be a Saturday rich of events, starting in the morning at 9.30 AM with the start of the last Stage of the so called Giro E, E-bike tour on the Giro d'Italia course. (Discover more on Giro E ). Late in the morning the "Carovana Rosa" will enter the village, anticipating the Giro d'Italia racers with joy and lots of fun. Finally, between 14:30 and 15:00 it will be possible to assist live to the Giro d'Italia stage passing through the streets of Predazzo (See more infos about the stage).
For the big road-bike fans who do not want to miss the development of the run up to the finish line, it will be possible to follow the live streaming of the stage from a maxi-screen set on the main square in Predazzo, surrounded by the joyful atmosphere of Marcialonga Craft and the many exhibitors of the 2019 Expo (have a look at the exhibitors). Finally there will be a toss to this amazing weekend with the riders' aperitivo, that will take place after the arrival of the Giro d'Italia stage, with live music.
Riders and bike-lovers are kindly invited to celebrate with us this wonderful weekend!
See the timetable for Giro d'Italia in Val di Fiemme
back to list