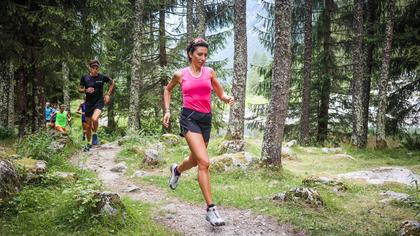 Marcialonga Coop will take place in less than two weeks and it will be the last challenge of the Marcialonga sport season. Many events will characterise the rich program with two days completely dedicated to running in Val di Fassa and Val di Fiemme on Saturday, August 31st in Moena village and Sunday, September 1st in the center of Cavalese.
The project MarcialonGirl – with the focus on supporting women's participation to Marcialonga events – has brought the Organising Committee to meet Karen Pozzi, a mum, sportswoman, blogger, Personal Trainer and for this year also Marcialonga Ambassador, a real spokesperson of Marcialonga and of all the positive values connected to sport. This year, indeed, the Warm up Run scheduled on Saturday morning will be with the company of Karen and Elisa - passionate Marcialonga athlete- who, from 11.00 a.m. will propose a super preparation to the Sunday race with the muscular awakening, a small run of 4 k and the final stretching in order to get ready at the start.
The runners will have the opportunity to make this experience together with a local Star… Olympic gold medalist from Moena and a big friend of Marcialonga… Do you realise of whom we are talking about? If not, follow us on Facebook and Instagram and discover who he is!
Ph. Maurizio Torri
back to list