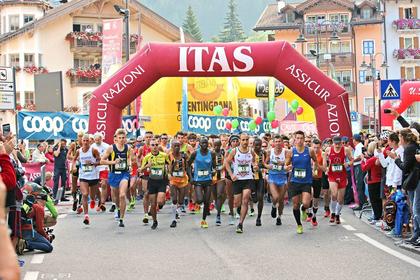 The 18th Marcialonga Coop on September 6th, 2020
From Moena to Cavalese 26 km: do not miss the low registrations fees of the weekend
The charity relay race will open registrations on december 16th
Running in Val di Fiemme and Fassa in a unique emotion for a runner, even more if to do so the entry fee is quite symbolic. For the 2019 Black Friday, in fact, Marcialonga launches registrations only for 15€ instead of 30€, but only from tomorrow until Sunday, december 1st!
The event is open to all kind of athletes that dedica to experience these 26km on their own or with friends at the realy. From the beautiful Val di Fassa to the main street of Cavalese, through fields, villages and the Trentino nature. The first 21km run fast on a slighly downhill track, whilst runners need to keep energy for the last km that go "up".
The runners that want to face the relay with their family and friends will share a first leg of 10km and two more 8-km-legs. An initiative with an important goal as those who will register it through non-profit organisations cooperating with the project. "Get your team together because registrations will open soon, on December 16th. Christmas is getting closer and this could be the perfect gife idea, supporting a benefic project", is the message from the OC. From adults to kids, Minirunning will take place on Saturday, September 5th on about 900m in the center of Moena and is dedicated to runners from 6 to 12.
282 days are left to the event, but Marcialonga Coop is already shining.
back to list