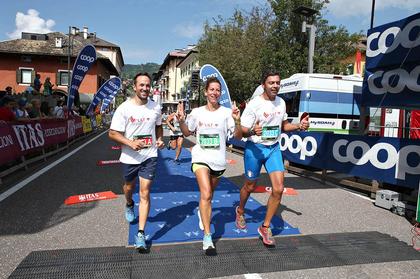 On September 6th Marcialonga Coop number 18
26 km course from Moena to Cavalese (10 - 8 - 8 km for the three runners)
All the charity Onlus you can help running the relay
"Single" registrations for 30€ until June 25th, 2020

Sprint means "calendar" for each runner, so in the running calendar of each runner Marcialonga Coop on September 6th cannot be missed by the real runners that will join the 18th edition. A race that is now running on its own, not depending on the winter event, even though it runs from the same start point to reach the same finish spot (just few meters from the winter finish line). The runners still have time to prepare for these 26km in the Valleys of Fiemme and Fassa, just a little longer than the half-marathon and with the final climb uphill.
But if the distance seems to be too long, there is the chance to face the race in the three-legs-relay, with the runners sharing 10, 8 and 8 km, always from Moena to Cavalese. A charity relay, which is a bigger motivation to register and to participate with your friends. How? Entering only throught the no-profit organisations that adhered to the project and that you can find on the apposite section on the website (CLICK HERE TO SEE THE NON-PROFITS)
Running Marcialonga Coop means helping the others, benefit yourself and your health, hoping in a moment like the current one, to enjoy a run in the beautiful Valleys of Fiemme and Fassa. Registrations to the relay vary according to the project chosen, meanwhile individual entries amount at 30€ until Thursday, June 25th.
back to list