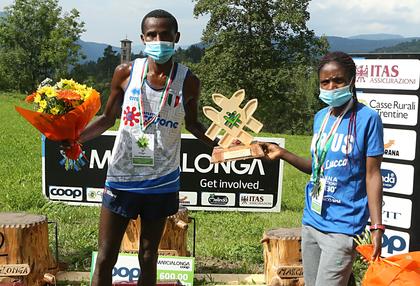 The African runners won over everyone
A race of success with the Olympic champions Baldini and Nones awarding the protagonists
Burundi was still missing in the roll of honour of Marcialonga Running Coop: today Onesphore Nzikwinkunda was the first one to get there, completing the 24 km in 1h12'19" and a half-marathon time of 1h03'02", against his best personal time of 1h01'. In the ladies' category the winner was Clementine Mukandanga already winner in 2018.
The race was a success in the "anti Covid" format: the planning process, the volunteers and the thousands runners with their enthusiasm and motivation to run guaranteed for a happy ending of the running event in Val di Fiemme and Val di Fassa. An unusual competition, with athletes starting every 5 seconds wearing a mask until after the start and right after the finish in Cavalese.
A run that everyone was facing by himself or herself, as a personal challenge. Along the track, on two spots, there were even snow canons, used to spread drops of water to refresh the runner in the sunny day.
The finish in Cavalese was also different from the other editions: not in the center of the village as usual but next to the park, right after the tunnel of the old railway track, enlightened with lights and lasers for the occasion.
At the start of the race also the skiers of the Visma Ski Classics Tem Robinson Trentino, with Lorenzo Busin at the 9th overall place and his team mate Florian Cappello, 37th ranked at Marcialonga Coop and winner of the special ranking of the Gold Superstar Club, the combined event uniting the three Marcialonga events.
No prize-giving ceremonies but only the flower ceremony, as the Covid protocol requires. Two Gold-Olympics were awarding the prizes, Stefano Baldini correspondent for Sky Italy and Franco Nones, "landlord" congratulating with the protagonists of the event. Talking about Olympics: there were even two Olympic passages inside the Ski Jumping Stadium in Predazzo and in the Nordic Ski Stadium in Lago di Tesero, venues that will be hosting the Olympic races in 2026.
The Marcialonga Running Coop is archived with success and now, with this experience behind, it is time to look forward to the Nordic-ski marathon at the end of January.
Results – Men
1 Nzikwinkunda Onesphore Bur, Atl. Casone Noceto 1:12:19; 2 Koech Joash Kipruto Ken, G.P. Parco Alpi Apuane 1:14:59; 3 Taye Damte Kuashu Eth, Atletica Buja 1:16:08; 4 Rubayita Siragi Rwa, Atl. Castello 1:16:50; 5 El Haissoufi Ismail Mar., Atl. Rimini Nord Santarcangelo 1:18:40; 6 Boudalia Said Mar., Atletica San Biagio 1:19:11; 7 Kipngetich Simon Rugut Uga, Toscana Atletica 1:19:28; 8 Nihorimbere Celestin Bur, Atletica Brugnera 1:21:39; 9 Zorzi Nicolo' Ita, U.S. Cornacci Tesero Asd 1:21:59; 10 Vecchietti Matteo Ita, Atletica Valle Di Cembra 1:22:26
Results – Ladies
1 Mukandanga Clementine Rwa, Atl. Virtus Cr Lucca 1:21:54; 2 Cavaline Nahimana Bur, #Iloverun Athletic Team 1:25:29; 3 Giomi Sarah Ita, Cus Pro Patria Milano 1:27:31; 4 Nimbona Elvanie Bur, Asd Caivano Runners 1:28:42; 5 Iozzia Ivana Ita, Calcestruzzi Corradini Excelsior 1:29:06; 6 Bettin Loretta Ita, Atl. Paratico 1:32:35; 7 Zilio Anna Ita, A.S.D. Team Km Sport 1:33:56; 8 Cunico Maurizia Ita, Atl. Casone Noceto 1:34:28; 9 Zerbini Sarah Ita, Camisano Running A.S.D. 1:34:34; 10 Ricci Laura Ita, Calcestruzzi Corradini Excelsior 1:35:09
© Newspower.it
back to list