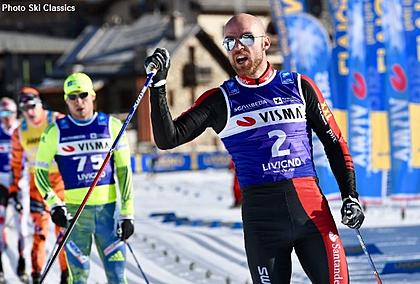 SOURCE: www.vismaskiclassics.com
The 30 km race comprised five laps, and after the first one both men and women faced their first and only sprint of the day.
In the men's competition, the lead group stayed intact until the last climb where Team Santander's Tord Asle Gjerdalen and Team Pioneer Investment's Ilya Chernousov passed Petter Eliassen who had been leading most of the way. The last climb proved to be tough for all skiers, but both Gjerdalen and Chernousov were able to maintain their breakaway and come to the finish line neck to neck. The former was stronger in the end and claimed his first victory of the season.

The women's race went as expected and Lager 157 ski team's Britta Johansson Norgren and Team Santander's Katerina Smutná broke away in the last hill leaving Sara Lindborg, Team Serneke, behind securing third place. Norgren tried her best to create a gap in the climb, but Smutná did not give up until the finish line where the Swede was able to increase her double poling tempo and finish as the fastest female of the day. Norgren was also the best sprinter today making her a double jersey holder.

In the sprint competition, Team Santander's Andreas Nygaard overcame his stomach flu and proved that he is indeed the King of Sprints in Visma Ski Classics. In the youth category, Team Serneke's Bob Impola had a perfect day by finishing fifth in the overall results and taking over the pink jersey. Team Synnfjell's Kristin Antonsen managed to hold onto the aforementioned jersey in the women's race. After the disappointing Pontresina prologue, Team Santander rose to the occasion by becoming the number one team in the Visma Ski Classics series before the holiday break.
back to list