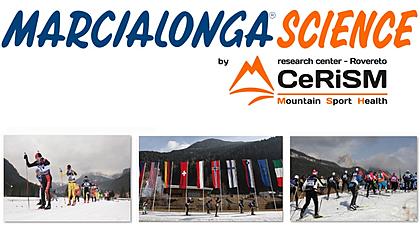 The Marcialonga Organising Committee will continue in 2017 to work together with CeRiSM (University of Study of Verona) for the project "Marcialonga Science", that aims to analyze various aspects of the cross- country skiing.
The first edition of the project Marcialonga Science – in 2015 - has lead to the publication of two scientific articles accepted by indexed international magazines and also to the presentation of the data at international meetings of winters sports.
The last January at Marcialonga race office, more than 1500 participants have been interviewed to understand the physical and mental training of the long distance skiers; the results are available on Marcialonga Science 2016 – The project.
The next year, Marcialonga Science Project will analyze the biomechanical aspects of the fatigue and also the technical components of skiing both with skis and skiroll.
Who is interested and available for the study may contact the Marcialonga Office or the CeRiSM Center asking for more information.
TAKE A LOOK AT THE MARCIALONGA SCIENCE REASEARCH AND AT THE OTHER MARCIALONGA SPECIAL PROJECTS >
back to list