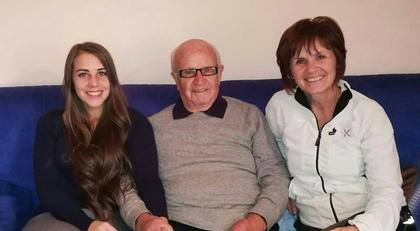 Marcialonga is a real family matter!
Over the years, the passion for this Granfondo has involved lots of boys and girls who have then become fathers and mothers, involving their own kids. Time after time, these kids also grew up surrounded by the enthusiasm of the event and keep passing on the family tradition.
We are going to tell you the story of three families in which entire generations take part in Marcialonga as athletes, volunteers or supporters and where the boundary to the event is very special.
Need a hand? We are all in!
Marcialonga was born and developed thanks to the help of many volunteers, a heritage of undefinable value as for every year there are about 1300 people involved. Among the others, a key figure for Marcialonga is Mario Vanzo, who has been the head of the race office for 30 years. Mario involved his daughter Antonella and the granddaughter Giorgia, who welcome the participants with a smile when they come to pick up their starting bag.
What does Marcialonga mean to you?
Mario. Almost 40 years of my life! I have spent 37 years as a senator and 30 as the chief of the race office and nowadays I always try to help. I remember that the week at the race office was very intense and taking part in the race on Sunday was a wonderful liberation. Right after the finish, I just found the time to get changed and run again to the race office, I cared a lot about it. Besides Marcialonga, I took part in almost all the Worldloppet competitions and I was awarded as WL Master. I was very proud.
Antonella. Marcialonga means living for one whole week in a new reality with an international atmosphere. It is like living in a different world. Of course it is tiring, but it is an effort which breaks the routine and is particularly magic and rewarding. It is a pleasure to face the participants, see them happy, see their expressions when they recognise you the following year. This is rewards every moment of effort.
Giorgia. It is an opportunity. It is a responsibility. It is contact and exchange with many people. My family has always been involved in the race office and for me it was natural to follow them. Marcialonga is the event of the year: besides helping in the bibs' distribution, I have taken part in the Mini, the Young and the Marcialonga.
How did you start working with Marcialonga?
Mario. I started cooperating with the race office at the end of the 70's and after a couple of years I became the responsible for it, keeping the position for 30 years.
Antonella. 1983 my dad asked me to help him and I remember that he designed me to release the FISI cards to the participants, as a first task. I was terrified. But I liked it so much that I started to collaborate from that moment on.
Giorgia. Since I was a child I followed my mum to the race office after school and I tried to help where I could. I have been officially at the bibs' distribution for the past two years.
Some words to describe the other two…
Mario. Antonella is a chatterbox! She is also altruistic and is always ready to help the others. Giorgia is determined. She is tough and very committed to everything she does.
Antonella. Dad is a grumbler! But, above all, he is a big example of friendliness. Besides, he is a perfectionist and if he commits to something he will always respect it. Giorgia is very determined, she knows what she wants and is also very friendly.
Giorgia. Grandpa is an example for everyone. He is the big boss who directs everyone and is a milestone I can always count on him. Mum is my certainty, the person I get inspiration from every day.
back to list