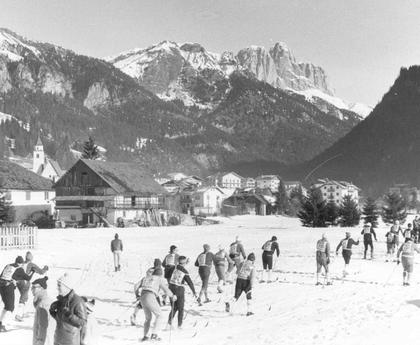 There are people who have never tried the Marcialonga track, people who have no clue about it and people who know it so well that they can run along it in their head as if they were actually on it. Here some parts of "Drifting off to sleep" one of the memories in the book "Legends", a collection dedicated to the senators of Marcialonga. Susanna Sieff has interviewed them and has interpreted their words through short stories. The story of Luciano Bertocchi in particular, recreates the vivid image of the 70km that are the track of Marcialonga with love for details and involving spirit.
"Moena. I am at the starting line. You breath adrenaline before the start of the race. Suddenly, in the cold air, the crack of a starting-pistol shot. The gates open and finally I can let go on the track.
I have just come out of the starting gates and I can see the first slope. I ski past the police station and I have nearly arrived at Soraga! Be careful! Here is one of those curves that claims most victims, but I am not worried, I know it well.
I can see the Avisio, the river, my travelling companion precious in its low respectful flow. It travels with me for the few kilometres before the beginning of Pontere di San Giovanni, which is the first really physically difficult part of the course. I get to the top and there is a slight downward slope that brings me to Pozza di Fassa, and then a light rise and fall to Pera and then to Mazzin. I find myself in front of the Sella mountain range with its legendary steep mountains in all their natural glory.
I slide, push and daydream while heading to Campestrin, then Campitello and finally Canazei. We change direction and head back towards where we came from. The Marmolada is now behind me and I ski downwards to Moena. I can see the starting line to my right where this morning, at sunrise, I stood so full of expectation. So far so good. We have done a circuit but the road is still long. Cavalese is waiting... but first I must pass the other villages of the "Fiemme" valley. The Lagorai mountains, a wild and magnificent terrain with the hardest climb, the last before arriving at the sought after line, bringing with it the satisfaction that I got there again."
LEGENDS
The complete version of this piece, the other stories and the interviews, can be read on the marcialonga.it in the "Project" section or clicking here >
back to list