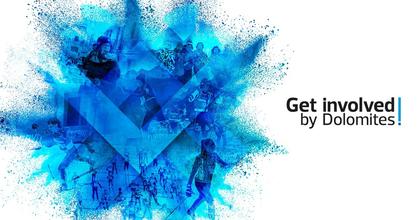 Get Involved has been at Marcialonga's side in communication for three years now. When launched, this slogan has been presented with an explanation that we would like to remind to those who has forgotten it and to tell it to those who meet Marcialonga for the first time.

Get involved means putting effort in something, getting in the game. When this short and immediate sentence was proposed, it seemed like it would entirely fit the way Marcialonga wanted to introduce itself in the new spotlight.
This claim is the invitation to get involved by Marcialonga and to all that it represents: territory, nature, landscape, tradition, sport, sacrifice, satisfaction and Dolomites of course. Since last year, the mention of the Dolomites was added, who give immediate idea of its territory and the magic of the mountains that are considered "World Heritage" by UNESCO.
It is the exhortation to find the best motivation, no matter if in Nordic Ski, Cycling or Running. It is a challenge with yourself, rather than with the others. It is an invitation to the sports-fans, to those who are looking for authentic experiences, to the curious and the braves to enter the Marcialonga world and its explosion of colors and emotions, as the new graphic 2020 highlights.
back to list