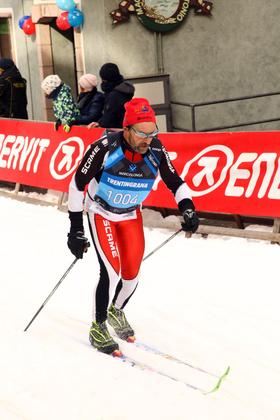 For the fifth edition of Marcialonga Science, CeRiSM (Mountain Sport and Health Research Centre, University of Verona) in collaboration with the Organising Committee of Marcialonga promoted the "MarcialongaScience on Elderly" study. This study aims to collect data on the physiological condition and socio-emotional health of skiers over 65 years of age, who have been taking part in Marcialonga for several years. The study involves 40 cross-country skiers from Italy (36 men and 4 women).
Three important results have been obtained compared to the healthy, inactive population of the same age: "better physiological values such as blood values, cardiovascular health, body composition (low % of fat mass), muscle strength and breathing capacity; exceptionally-above-average values for balance control and reaction time; far-above-average values for quality of sleep and perception of quality of life". The data do not change by elderly people (60-70 and 70-80) compared to the normal physical and mental decay of the corresponding inactive population. It should also be emphasised that the results do not depend on the competition results. In fact, the most important thing is to do 6-8 hours of physical exercise per week to ensure excellent physical and physiological performances.
The "take-home messages" of the study are therefore that the health of people over 65 depends on the regular physical exercise rather than on the competitive level, and that ... "cross-country skiing is an excellent model of physical exercise for successful ageing".
back to list