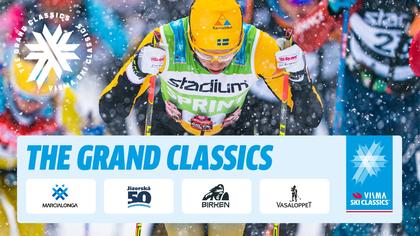 The long-distance skiing world championship, Visma Ski Classics, launches the "Grand Classics Events": it is a brand new challenge where an athlete winning all four events during the same season completes a "Grand Slam". The Grand Classics events are the four largest and most prestigious events in the Pro Tour: MarcialongA that will open the challenge on January 31st, followed by the Czech Jizerska Padesatka on February 14th, the Swedish Vasaloppet on March 7th, and Birkenbeinerrennet will close on March, 20th.
"The Grand Classics events are part of the strategic sport development of Visma Ski Classics. When we locked the Pro Tour to 10-12 events, there will not be room for so many new events, so we will develop the sport within the Pro Tour. The four; Marcialonga, Jizerska, Vasaloppet, and Birken have always been part of our calendar and will be our monuments also in the future, " says Visma Ski Classics CEO David Nilsson.
What is quite interesting is that, looking at the past, nobody ever managed to win all four events within the same season, completing a Grand Slam, so the question is "Who will be the first?".
Swedish Sven Åke Lundbäck in 1981 and Italian Cristina Paluselli – coming right from the valleys of Marcialonga - 2005 and 2006 have been the closest so far winning three Grand Classics events in one season.
A curious fact is that the Aukland brothers together won all four in 2013, two each, but of course, that does not count...
It will now be great prestige to win all four events in the same season and be the first to complete a Grand Slam. But let's have a quick look at the skiers that have come the closest to achieve this mission:
A Grand Slam, all 4 Grand Classics events same season:
NONE!
Won all 4 Grand Classics events different seasons:
Anders Aukland (completed 2008)
Petter Eliassen (completed 2019)
Jenny Grip (Hansson) (completed 2011)
Cristina Paluselli (completed 2006)
Won 3 Grand Classics events same season:
Sven Ake Lundback 1981 (missing Jizerska)
Cristina Paluselli 2005 (missing Vasaloppet) 2006 (missing Birken)
Won 3 Grand Classics events different seasons:
Andreas Nygaard (no Marcialonga)
Oskar Svard (no Birken)
Britta Johansson Norgren (no Birken)
Katerina Smutna (no Birken)
Won 2 Grand Classics events at the same season:
Bengt Hassis 1985
Seraina Boner
Britta Johansson Norgren
Katerina Smutna
Petter Eliassen
Jorgen Aukland (In 2013 Jörgen won 2 Grand Classics events and his brother Anders 2, a family Grand Slam)
Anders Aukland
Jerry Ahrlin
Jenny Grip
Andreas Nygaard
Hilde G Pedersen
Oskar Svard
Stanislav Rezac
Svetlana Nageikina
Lara Peyrot
More information on www.vismaskiclassics.com
back to list