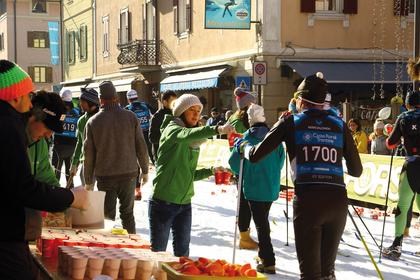 Every car needs a good engine to work well and in the case of Marcialonga the engine is represented by the volunteers, a small army of people who give their time and support to all our events, including the winter Granfondo, the road bicycle race Marcialonga Craft and the Marcialonga Coop running race.
The organisation has required an increasingly professional structure, both for the variety of events scheduled and to keep its level constantly high thus guaranteeing to those who choose to be part of it a great event to remember. Each sector has become increasingly structured and well managed, under the guidance of the key officials and the coordination of the headquarter. But there's even more: every committed person faces his or her job with passion, enthusiasm and with the awareness that an event needs to count on the simplest things and gesture to be awesome.
Thanks to the volunteers who make Marcialonga great with their indispensable contribution and thanks to the competitors and supporters for the respect and gratitude towards all those involved.
back to list