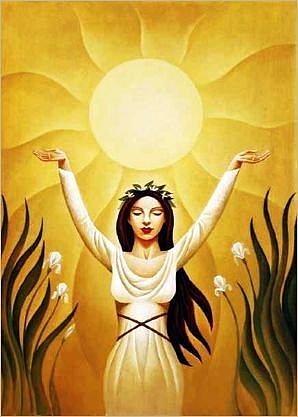 In the wonderful natural scenery of the Dolomites the ancient legend of Soreghina the daughter of the Sun is born.
Soreghina was a princess whose life depended on sunlight. According to the prophecy, she would die instantly if she stayed awake during the night or bad weather.
One day, while Soreghina was in the middle of meadows, she found a young man lying on the ground unconscious. This young man was a brave warrior called the Eye of the Night, cast out of the kingdom of Fanes because, in love with the princess Dolasilla, had dared to ask for her hand to the King. During the escape he fell from a cliff above the Val di Fassa.
Soreghina took care of himand the two young people fell in love, got married and lived a happy life. Soreghina lived with Eye of the Night in a log cabin, located in the sunniest spot in a clearing in front of Mount Vernèl. The happy days, though, passed fast and here came the autumn with the first fogs and snow on the peaks. In the afternoon of a chilly day a foreign warrior, friend of the Eye of the Night came to the house of the couple. The two men spoke for a long time on the sidelines. Soreghina, taken by curiosity listened to their speeches. So she approached the door of their room and heard the words of Eye of Night: he felt bound to her by devoted and eternal gratitude, but he always carried in his heart the indelible image of the princess Dolasilla.
It was already night when the friend left, and Eye of the Night began to be filled with remorse for his hidden feelings, a betrayal of the sweet Soreghina. Then, regretting his lack of loyalty, he went to see his bride who was definitely sleeping, as always, in the middle of the night. He opened the door, and Soreghina, who was listening to their discussion regardless of the passage of time, fell into his arms lifeless. The dark night had surprised Soreghina awake; inexorably the prophecy had been fulfilled. The tears and the pain of the Eye of the Night, that desperately begged forgiveness were useless.