The project that gathered together sport and show biz.
#GETTHEREALEXPERIENCE
For the 2017 appointment, Marcialonga decided to to focus on the life-style and worldliness with the Project Marcialonga Experience, that will gather together well-known names from the world of sports, economy, politics and show biz.
The guests took part in all the events during the three wonderful days at the end of January, some of them participating even in the 70 km of the historical Granfondo that glides at the foot of the Dolomites. In order to make everything more exciting, some exceptional VIP pair were associated to challenge each other for a very special Marcialonga ranking.
The couples
Manolo - Ivo Andrich
Francesca Porcellato - Aulo Avanzinelli
Davide Cassani – Luciano Bertocchi
Alberto Custodero – Costantino Costantin
Marco Albarello – Luigi Delvai "Meta"
Maria Canins – Fabio Lunelli
Franco Nones – Giovanni Mariani
Maurizio Fondriest – Marco Aurelio Nones
Claudia Morandini – Odillo Piotti
Gilberto Simoni – Armando Zambaldo
The winners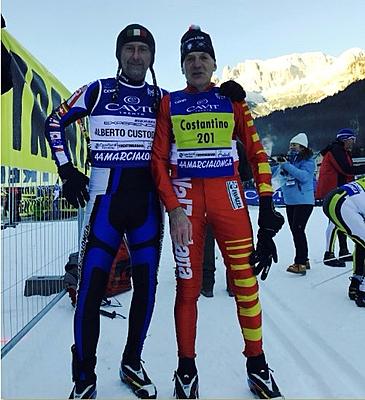 At the end of the three days rich of emotions and satisfactions, a count has been made, based on the time of the race of the Senators and the activities in which the celebrities participated, such as the Opening Ceremony or the other side events. The winning couple is formed by Alberto Custodero, journalist of the Italian National Newspaper La Repubblica, and Costantino Costantin, the fastest of the Senators, the ten legends who can proudly bear this title.