The contest winners are here!

10 actors within the sports and information movement took part in one or more events on the occasion of the 44. edition of Marcialonga, living first-hand for three days the Marcialonga Experience 2017 project. Some of them lived the thrill of Marcialonga Story, skiing with wood skis and wool clothes; others run the Marcialonga Stars for a worthy cause, supporting the Anti-Cancer Association LILT. The bravest of them experimented the main event that for more than 45 years has been living up our territory, the Marcialonga di Fiemme e Fassa. The goal of the project is to live and understand the Marcialonga world and the reason why this Italian popular race is so loved and appreciated. But they tried also, paired with the Senators associated with them, to win the charitable challenge organised by Marcialonga.
These are the couples formed:
Manolo - Ivo Andrich
Francesca Porcellato - Aulo Avanzinelli
Davide Cassani – Luciano Bertocchi
Alberto Custodero – Costantino Costantin
Marco Albarello – Luigi Delvai "Meta"
Maria Canins – Fabio Lunelli
Franco Nones – Giovanni Mariani
Maurizio Fondriest – Marco Aurelio Nones
Claudia Morandini – Odillo Piotti
Gilberto Simoni – Armando Zambaldo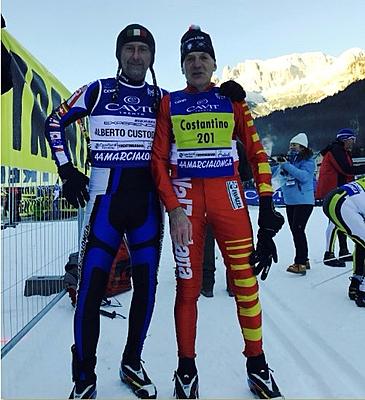 At the end of these three days rich of emotions and satisfactions, a count has been made, based on the time of the race of the Senators and the activities in which the celebrities participated, such as the Opening Ceremony or the other side events. The winning couple is formed by Alberto Custodero, journalist of the Italian National Newspaper La Repubblica, and Costantino Costantin, the fastest of the Senators, the ten legends who can proudly bear this title.
The prize, with the charitable purpose, is a check made out through the winners by Marcialonga to BIMBINGAMBA, the Association founded by Alex Zanardi. Zanardi will receive the prize from the hands of the winning couple on the occasion of the Marcialonga Cycling Craft on June 4th, 2017.
BIMBINGAMBA is an Italian wordplay which translates literally as 'kids on legs' where "on legs" is a saying meaning "cool and smart". The Association makes artificial limbs for children who have undergone amputations and do not have access to proper healthcare. These children come from all over the world and have lost one or more limbs as a result of accidents, illness or injuries from explosives or firearms in war zones.
So far more than 100 child amputees have been treated. The Association is also actively involved in the BIMBINGAMBA – Sport project, designed to get children with amputations or spinal injuries into the sport of hand-bike.
back to list