CROSS-COUNTRY SKIING: A SPORT FOR ALL AGES!
Marcialonga: All the Events
Snow is something magic. Children are amazed, they enjoy playing and discovering it. The grownups become kids again and many people dedicate themselves to snow sports.
Cross-country skiing gives the possibility to practise a healthy sport in a privileged living environment where pure beauty and silence are the protagonists.
Talking about its benefits, the body is stimulated by different movements that activate muscles and contribute to the development of balance and strength.
Skiing together, in a sport club, creates group and social dynamics that are essential for children but also for adults.
Cross-country skiing is not often associated with enjoyment, but those who practice it can guarantee that they are actually having a lot of fun!
What better way to discover it than through Marcialonga's events? First Marcialonga Baby, then Minimarcialonga and Marcialonga Young. Registrations for Marcialonga Light are allowed starting with 16, whereas for the 70km race 18 years are required. In the meantime, opportunities for training, enjoying and trying out this sport are not missing!
From 16 years old is it also possible to compete with old cross-country skiing; wooden skis, classic technique and slow movements. Grandparents surely know it very well and they can re-experience those feelings with children and grandchildren during the Marcialonga Story.
For those who are not comfortable on skis, there is another possibility to take part and make an important charitable contribution: the Marcialonga Stars. It is a charity event to which several renowned people take part, whereby the funds raised will contribute to the research on cancer done by LILT.
Discover all the events of Marcialonga; everybody is connected, from a young to an older age!

MARCIALONGA BABY
Kids, you can ski in Predazzo!
Marcialonga Baby is an enjoyable event dedicated to children under 6. They will deal with cross-country skis through the main street of the village of Predazzo, expressly covered with snow for the events of Saturday and the race on Sunday.
The meeting is on Friday afternoon previous Marcialonga, in SS Apostoli Square (Predazzo).
Participation is free of charge and skis for the young experienced or toy skis (no ski boots needed) are provided by the organisation.
You will find also the mascottes Fondolo and Skiri, clowns Braciacol and a lot of fun!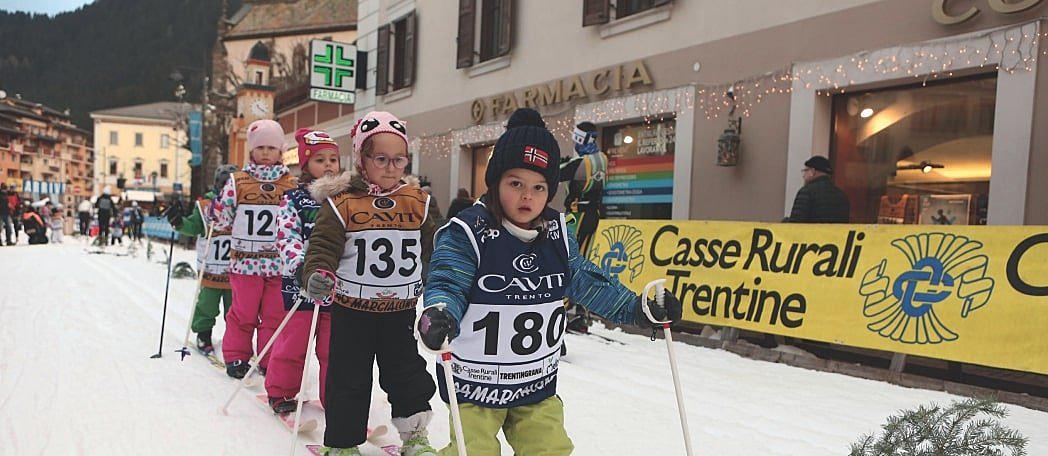 MINIMARCIALONGA
Skiing is a wonderful game
500 children, from 6 to 12, together for an incredible event: Minimarcialonga. You will breathe the joyful and cheerful atmosphere of happy children. For
sure, they will be excited at the start and when the action starts some children will be thrilled to go very fast. However, what is really leading is the beauty of skiing together and enjoying this day full of entertainment.
The track is 3km long and is suitable to all children, who would reach the satisfaction of crossing the finish line without competition or ranking. Every child is a winner for spending joyful moments together during Minimarcialonga.
Furthermore, during Minimarcialonga, you will find entertainment for children and many other projects. One of them is "The creative memory", a photo and drawing collection with interesting prizes the topic of which in 2019 is "Hurrah for Marcialonga-volunteers".
Browse Minimarcialonga Magazine online or request it at the local tourist offices or at the Marcialonga office. Your children will find games, stories and much more.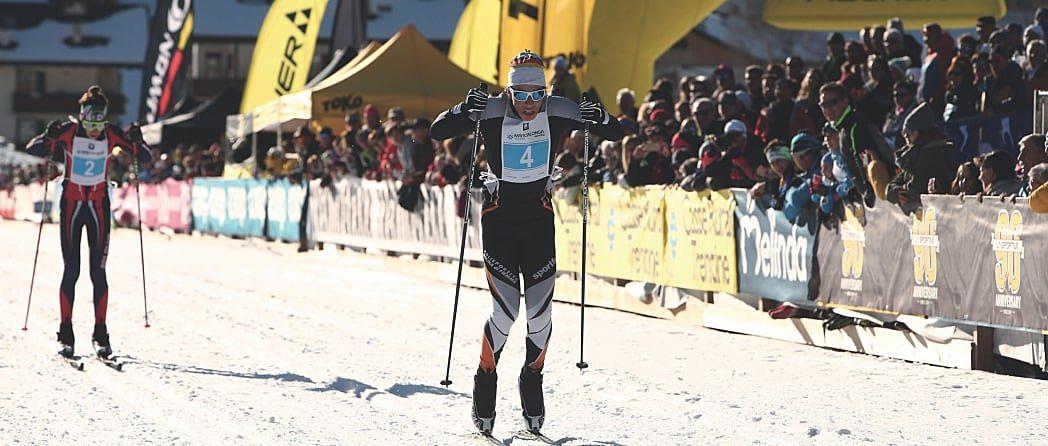 MARCIALONGA YOUNG
A stepping stone for Marcialonga
Marcialonga Young is a promotional event dedicated to young people, from 13 to 20 years old. This event is co-organised with the sport club Cornacci of Tesero.
Four categories: 2006-2005, 2004-2003, 2002-2001, 2000-1999, divided into men (M) and ladies (L) during the two days of race along different tracks.
The first race takes place right after Minimarcialonga and the category 2006-2005 both M and L will run 4km in the cross-country Stadium in Lago di Tesero.
On Sunday, the race starts in Lago di Tesero and finishes in Cavalese, after facing the arduous "Cascata final climb". The 2004-2003 M & L, 2002-2001 L and 2000-1999 L categories will cross the finish line after 9km, whereas 2002-2001 M and 2000-1999 M will proceed to the turning point in Molina and then take on the Cascata final climb to reach the finish line completing the 14 km and preparing the track for the big Marcialonga champions that will arrive shortly after.
back to list