Chiara Costazza e Cristian Zorzi struggle in a bike contest to win the title of King of the Mountain
We usually see them skiing, down a slalom slope or pushing hard in the white tracks. Now we can see them both in a different discipline, that of cyclists, facing a thrilling challenge.
WHO THEY ARE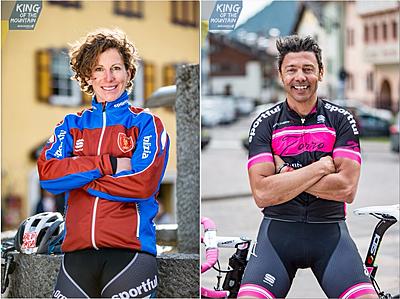 Chiara Costazza, alpine skier of the Italian National Team. She won a World Cup race, a slalom, and competed at the 2006 and 2010 Winter Olympic Games in the slalom event.
Her characteristics are: concentration, agility, determination
Cristian Zorzi, cross-country skier. At Winter Olympics he won a silver, a bronze and a gold medal. He has also two medals at the FIS Nordic World Ski Championships, a gold and a silver one.
His characteristics are: stubbornness, irony, tenacity.
THE CHALLENGE
Chiara and Cristian decided to challenge each other along the climbs of the Marcialonga Cycling Craft to win the prestigious title of King of the Mountain, that usually is given to the best climber in a cycling road race.
Watch the presentation of the challenge!
THE CLIMBS
Funny sketches and real competition: Chiara and Cristian face the climbs and present the specific characteristics and the difficolt points of the course in detail, but at the same time,in an understandable and entertaining way.
CHALLENGE #1 - MONTE SAN PIETRO CLIMB
CHALLENGE #2 - THE LAVAZE' PASS
CHALLENGE #3 - THE S.PELLEGRINO PASS
CHALLENGE #4 - THE VALLES PASS
THE PROJECT
The athletes were followed by Dolomiti TV cameras and Alice Russolo photographer: they took good images and produced exciting videos, but also amazing landscapes pictures.