28.01.2017
The revival of cross-country skiing is back for the fifth time:it will take place on Saturday 28th January 2017, the day before the Marcialonga, so that all competitors who gather for the main race could have the possibility to join in this
celebration of tradition.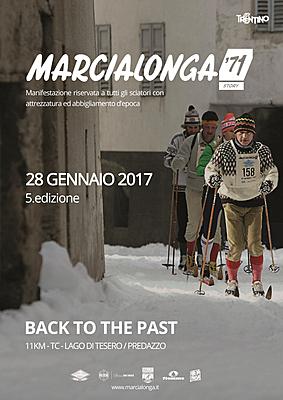 The programme will see the start in Lago di Tesero, with vintage equipment:
skis that must be older than 1976, bindings of 75mm, shoes, poles and cross-county skiing clothing corresponding to that period.The finish is settled in the main square of Predazzo, with the total length of 11 km. But do not expect to find any chemical integrator at the refreshment station, our fathers never found nor needed it.
All male and female skiers from 16 years old could participate, but be aware that equipment will be strictly supervised before the start.

And do not forget to have a look at the photo album on the Vintage XC ski book on the web, maybe a look in your attic could bring you some surprise.

Watch and listen La Marcialonga