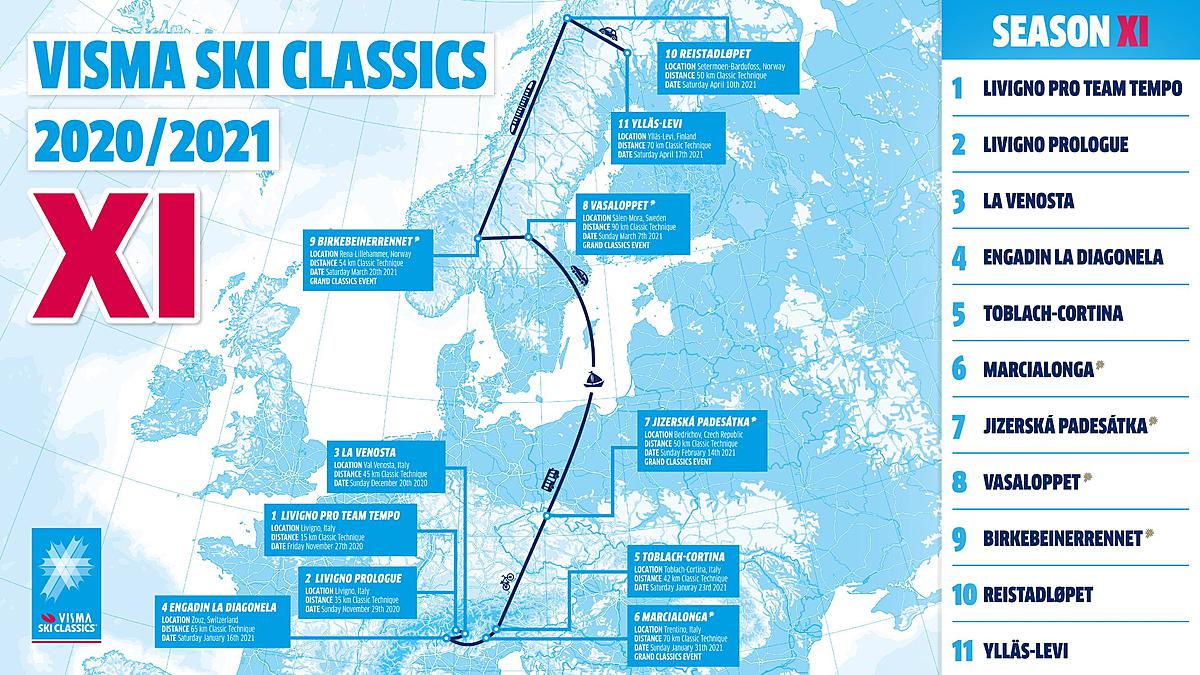 "Ski Classics" Cup is a long-distance cross-country skiing competition which engages the biggest European stages. The challenge is born in 2011 with six events on the schedule, while on the current 2020/2021 season it sees 11 races.
Marcialonga is part to this prestigious circuit from its debut with many experts in the field considering it a "special" race. In order to understand how much big champions love this competition, you just need to read the words of the 2015, 2016 and 2017 winner Tord Asle Gjerdalen, who also won a gold and bronze Medal at the World Championships in Val di Fiemme: "Marcialonga is all I think of during the whole year". His team member and Olympic Gold medallist Anders Auckland adds that: "Marcialonga is with no doubt the most important race of the year, I hope our team will be always competitive".
Being part of "Visma Ski Classic" is a big honor for Marcialonga, which has also been elected "Event of the Year" in 2018 and 2019.
Visma Ski Classics events
Italy: Pro Team Prologue – Individual Prologue (Livigno); La Venosta (Curon Venosta - New 2020); Toblach-Cortina (Toblach-Cortina); Marcialonga (Val di Fiemme and Val di Fassa, Trentino);
Switzerland: La Diagonela (Zuoz, Engadin);
Czech Republic: Jizerská 50 (Bedrichov)
Sweden: Vasaloppet (Sälen – Mora)
Norway: Birkebeinerrennet (Rena-Lillehammer); Reistadløpet (Setermoen-Bardufoss)
Finland: Ylläs-Levi (Ylläs-Levi)
For more information, please visit homepage: www.vismaskiclassics.com