25.01.2020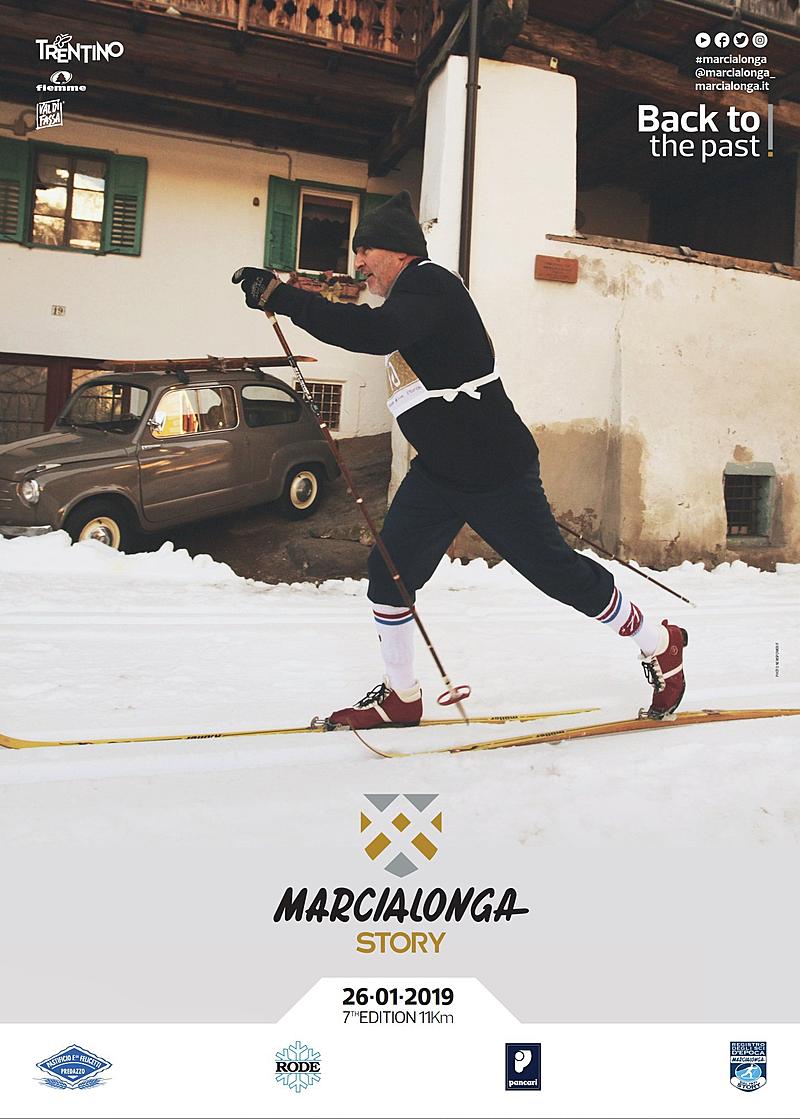 The revival of cross-country skiing is back for the fifth time: it will take place on Saturday, the day before the Marcialonga, so that all competitors who gather for the main race can have the possibility to join this celebration of tradition.
The programme will see the start in Lago di Tesero, while the finish is settled in the main square of Predazzo, with the total length of 11 km. But do not expect to find any chemical integrator at the refreshment station, our fathers never found nor needed it.
All male and female skiers from 16 years old can participate, but be aware that equipment will be strictly supervised before the start.
The skis must be older than 1976 with bindings of 75mm and shoes, poles and cross-country skiing clothing corresponding to that period.
REGISTRATION
ONLINE >
(payment with credit card or bank transfer).
DOWNLOAD THE ENTRY FORM >
Registrations for the 8th Marcialonga Story are not open yet
> subscribe our newsletter to be the first one to know when registrations open!
NEW!
RACE OFFICE AND MARCIALONGA STORY VILLAGE
Bibs collection, Skis Exhibition, Ski and Equipment Rent, Vintage Skis Book
Cavalese - Palafiemme
23.01.2019 3 pm - 7 pm
24.01.2019 9 am- 7 pm

The edition 2020 presents some important innovations.
The logistic centre during the days before the event will be the Palafiemme in Cavalese.
Here you can collect your bib number or register for the event (in case of avilability of start numbers).
But not only that!
You have the possibility to visit the skis and old equipment exhibition and to rent it. You can also get the certification for your personal skis and equipment thank to the vintage cross-country skis book.
Exhibition and Rental
Good news for those who would like to participate in the Marcialonga Story but cannot find the right equipment! Mr. Giuliano Boninsegna, together with his team mates, exhibits his own collection of historical and ski equipment Nynsen, produced between the 70s and 80s by him and his brothers. Part of the stuff is available also to be rent to participate in the Marcialonga Story. Marcialonga also recovered various equipment so that those who are interested can have the possibility to experience the enthusiasm and authenticity of the 70s cross-country skiing.*
* the number of shoes and clothing is limited and it is recommended to reserve it in advance.
COST:
- skis + shoes 30€ + poles + 20€ as a caution
- skis or shoes 15€ + 20€ as a caution
- poles 10€ + 20€ as a caution
- Clothing 15€ + 20€ as a caution

HOW TO RESERVE THE EQUIPMENT: send an email to info@marcialonga.it
Old skis Waxing
A service of waxing for old skis is available in Lago di Tesero before the start. The cost is 5€.

Vintage Cross-Country Skis Book
Register your personal skis and old equipment and get the official certification by Marcialonga.
The creation of a register of vintage cross-country skis has the purpose of gathering news, data and pictures of skis constructed in different periods, but still functional, so that everyone can see and appreciate their peculiarities, their history and their unique beauty.
The service is available at the MarcialongaStory Village in Cavalese and after the arrival of the Marcialonga Story in Predazzo.
MORE INFO >
Senastory: they took part in the previous 6 editions
We had fun to interpret the cross-country skiing of the past, singing the folk '70s song La Marcialonga:
6th edition: 27th January 2018
5th edition: 28th January 2017
4th edition: 30th January 2016