Marcialonga has a long story made of sport, humanity, tradition, passions but also fatigue and in several years so many stories are born. Some of them are particular, others are funny, exiting or touching, but above all, they are unique and special: everyone has a story to tell, to live again and not to forget.
#marcialongastories is born with the object to collect these tales. This is an evolving gathering where everybody is invited to post, either the competitors of Marcialonga Skiing, Cycling or Running or spectators and fans. If you can say "I was there", then you have for sure something valuable to share.
---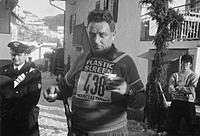 THE POLES OF FATHER MARTINO - by Mario Giacomuzzi
I lived with my family in the small village of Segonzano and I remember that my father took me and my brothers to see the Marcialonga. I think it was the first or maybe the second edition.
We were in Molina di Fiemme and we saw passing by Father Martino, a competitor that my dad knew well because he often visited us. He was happy and smiling despite his bleeding and dirty of resin hands, caused by his "high technological" poles made with two pine-tree branches (see the picture). My father asked him what happened and he answered that, right after the start, there was a skier who was crying because he broke a pole and could not ski forward. Father Martino said "You get upset without a good reason", then he grabbed two pine-tree branches giving his poles to the unlucky competitor.
---