14th Marcialonga Craft - 30.05.2021
THE 2019 TRACK IS CONFIRMED!
The heart of the event will be as usual the village of Predazzo, where the Expo village and entertainment shows will be organised.
On Sunday, there will be the start of the race there. After few metres, you will realise that the course will not turn left towards the Fiemme Valley but it turns right, in the direction of the great Dolomites. The Costalunga Pass is the first climb of the day. The hill offers a marvellous view over the Dolomites and goes next to the beautiful Carezza Lake, before leading to a downhill through small and traditional villages. Right after the slope, competitors face the Pampeago Pass, times stage of the spectacular "Giro d'Italia" and of other International competitions.
The track runs downhill, tacking the way back to Predazzo. There competitors can choose whether to stop on the finish line of the Medium track, or to continue their challenge facing the Long one.
The Granfondo route is projected to pass through Moena and then to face the San Pellegrino Pass, one of the favourite training streets for professionals and the scene of epic cycling challenges during Giro d'Italia. From there, the track passes in another region, Veneto, and faces one last climb on Passo Valles, with a view over the Pale di San Martino Dolomites. Finally, it starts its way down to Predazzo, passing through the secular trees of the Natural Park of Paneveggio.
Some data of the 14th edition:
Medium Track >> 80 km with 2488m climb
Long Track >> 135km with 3900m climb
Profile:

Map: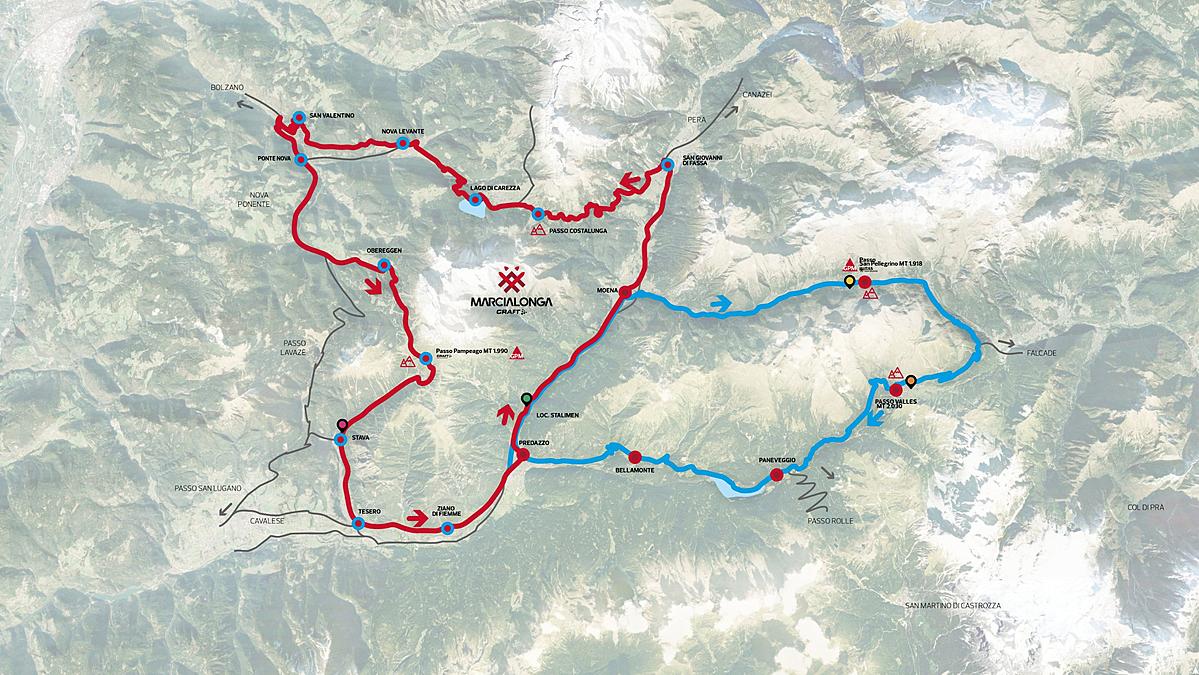 The Marcialonga Craft climbs:
Passo Costalunga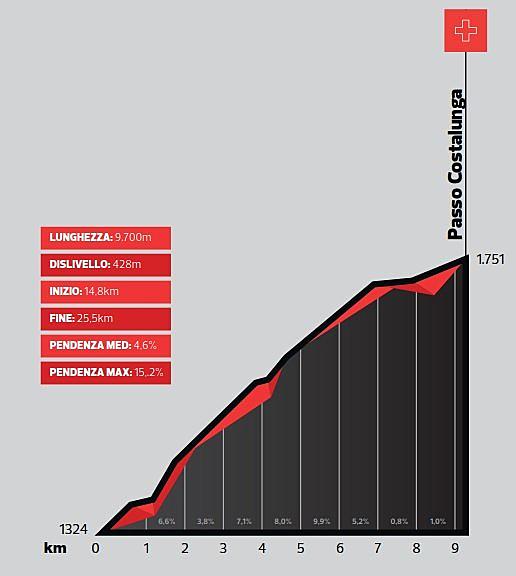 The climb to Passo Costalunga goes amongst the Dolomitic mountain range of Catinaccio and Latemar. After the peak, the descend leads you along the fairy-tale Lake of Carezza.
LENGHT 9 700 m
CLIMB 428
STARTS km 14.8
ENDS km 24.5
MEDIUM CLIMB. 4,6%
MAX. CLIMB 15,9%
Passo Pampeago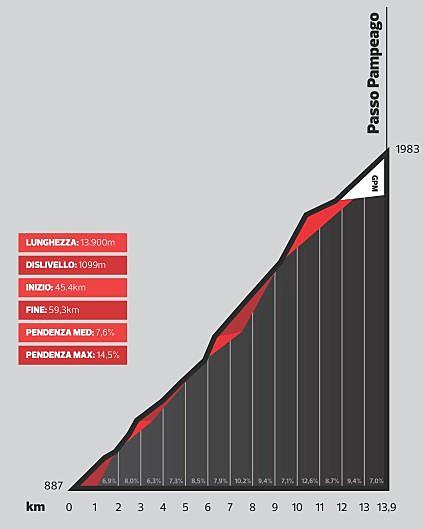 The climb to Passo Pampeago is famous for its spectacular arrivals of Giro d'Italia. In contrary to the Giro, you will face the Pass from the South-Tyrolian descending to Val di Fiemme.
LENGHT 13 900 m
CLIMB 1099 m
STARTS km 45,4
ENDS km 59,3
MEDIUM CLIMB 7,6%
MAX. CLIMB 14,5%
Passo San Pellegrino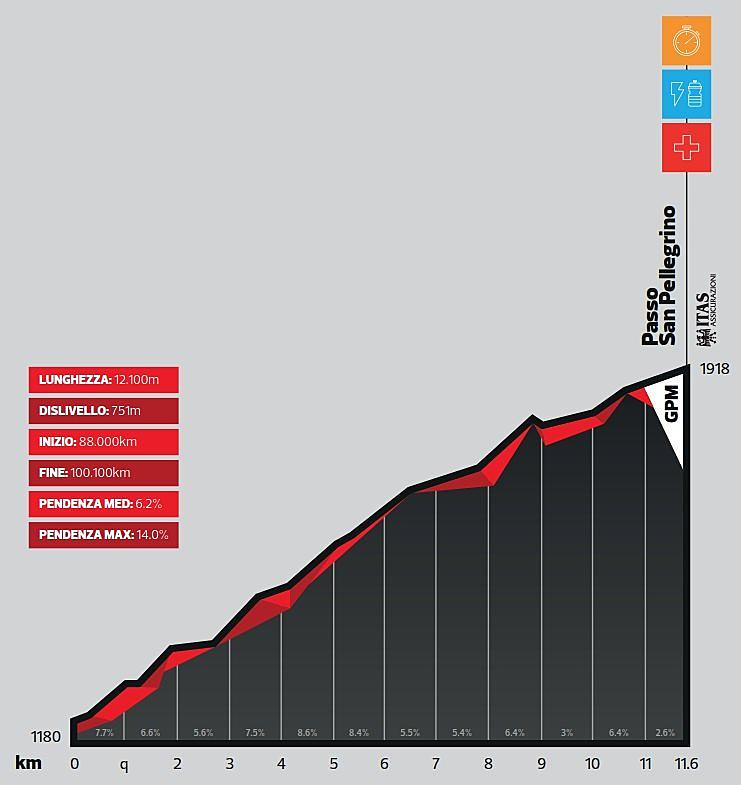 The Passo San Pellegrino ascent starts in Moena with an immediately challenging grade, but after few hairpin bends provides a break. As the forest becomes denser the slope turns steeper again until the view opens, and the road becomes more enjoyable. A long straight leads the competitors to the pass.
LENGHT 12 100 m
CLIMB 751 m
STARTS km 88.0
ENDS km 100.1
MEDIUM CLIMB 6,2%
MAX. CLIMB 14,0%
Passo Valles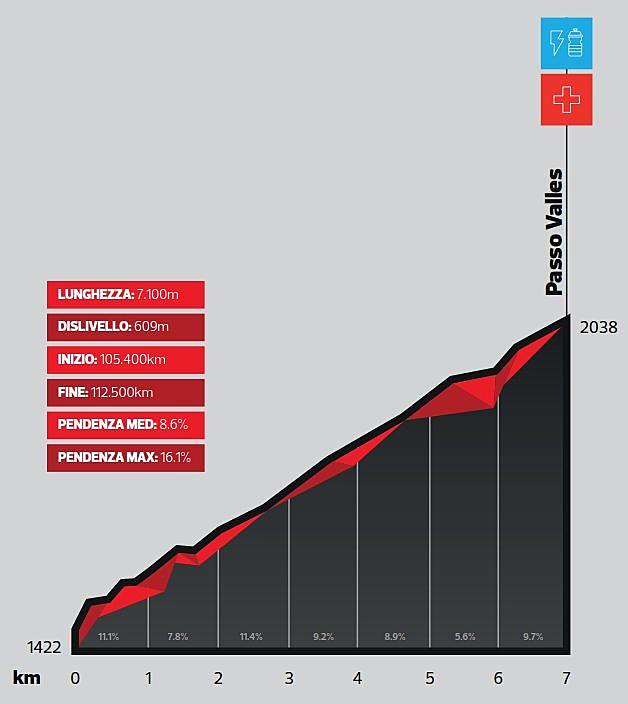 The ascent to Passo Valles has high and constant gradient that leave a little respite until the end. At the pass there is the last refreshments station before the fast and technical descent towards Predazzo.
LENGHT 7 100 m
CLIMB 609
STARTS km 105.4
ENDS km 112.5
MEDIUM CLIMB 8,6%
MAX. CLIMB 16,1%