CHOOSE THE ROUTE
MARK YOUR BOOKLET
GET YOUR DIPLOMA AND A SPECIAL GIFT
Take a ride on the roads of Dolomites! This is the spirit to face the 135 km of the Marcialonga Cycling Craft course or only a part of this, outside the athletic competition. From June until September there is the possibility to get this special certification, riding the route unhurriedly, having the time to look around and maybe taking advantage of a coffee or a brunch and enjoying the beauty of nature.
Useful Information
From May to September discover the route of the Granfondo Marcialonga Craft.


There are two types of certification that can be achieved:
SILVER, you should complete one of the two loops:
a) Panoramic Ring: Length 80 km - Elevation gain 2448 m - Ascents: Passo Costalunga, Passo Pampeago
b) Dolomitic Ring: Length 55 km - Elevation gain 1385 m - Ascents: Passo San Pellegrino, Passo Valles
GOLD, you have to cover the entire route of the Granfondo
Length 135 km, Elevation gain 3900 m, Ascents: Passo Costalunga, Passo Pampeago, San Pellegrino, Passo Valles
You can start at any point of the course but you need to complete the entire route in one day. In each of the points marked on the booklet you need the stamp and the date to certify your passage. Should the bar / hotel be closed, you can take a selfie with the shield of the Pass or with the name of the building.


Come to the Marcialonga office or send your booklet and selfies via email at info@marcialonga.it and get your diploma, together with a special gift sponsored by Craft Sportswear.


If you intend to participate at the Granfondo Marcialonga Craft, a €5,00 discount will be applied to your registration fee and you are entitled to the grid advancement if you obtain the GOLD certification.


Ride with the Strava App and enter in the ranking of each segment: ML Craft Costalunga - ML Craft Pampeago - ML Craft San Pellegrino - ML Craft Valles. At the end of this period there will be special awards.
Every cyclist interested in obtaining the Marcialonga Certification declares to comply with the current Highway Code and also declares to exempt the organisers of the Marcialonga from any liability, both civil and criminal, for damages to persons and / or property caused by the participant. Rules on marcialonga.it
PRINT THE BOOKLET AND RIDE!>

COMPLETE REGULATION >
Map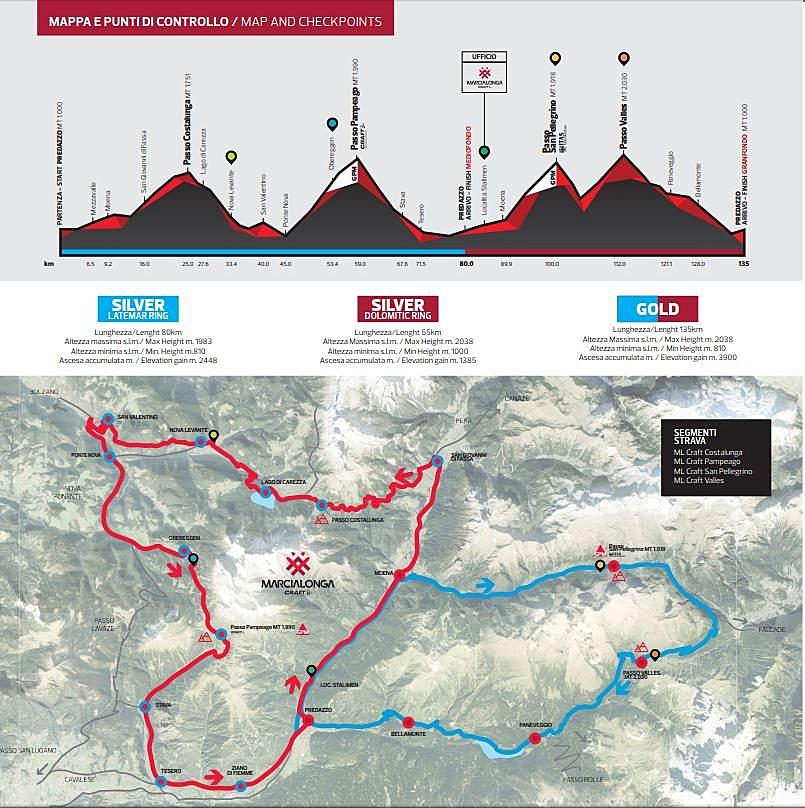 Stamp points:
Panificio Näckler - Nova Levante (BZ)
Sporthotel Obereggen - Obereggen (BZ)
Latemar Stube – Predazzo (TN)
Hotel Cristallo – San Pellegrino Pass (TN)
Capanna Passo Valles – Valles Pass (TN)
Service points:
Bike for Fun - Predazzo
Local Motion - Predazzo - Ziano di Fiemme
Hobby Model Cicli - Tesero
Cicli Green Polo - Carano