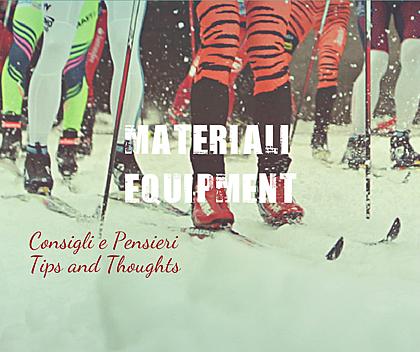 We explained the last week, how to choose the right training for the cross-country skiing. Today we are talking to Enzo Macor, technician of the Fiamme Gialle Ski Team, about equipment and in this case about the xc skis with skin. Many consider skin skis right for beginners skiers only but more and more skiers appreciate them very much.

---
In recent years, climate change has brought mild winters with lack of snow. The pretty fair temperatures cause changes even on the snow characteristics.
For these reasons it has become more difficult to find the right grip wax and the manufacturers are searching for new and alternative methods to avoid waxing: waxless skis or skis with a special chemical insert that does not need waxing. Lately we have assisted to the big success of the skis with synthetic skins applied. They allow the skis to get a grip in any snow conditions.
The best performance of these kind of skis is when the temperature is proxy to zero: in this case the grip is excellent and the glide is good enough. When temperature is very cold the grip wax is the best solution anyway, but when conditions are changing and snow gets wet, the gap between wax and skins is narrowing.
For whom is this the right ski type?
Skis with skins provide the best solution for skiers who do not want to wax or are not expert enough to do it, or for those who have little time for training or does not want to spend too much money for the purchase of grip waxes. Even top skiers during their long training use skis with skins, because they do not need modification for spoiling neither in case of changes of snow conditions. The biathlon skiers appreciate them very much during the training in classic technique, in particular when stopping for shooting, so that the shot place does not get dirty.
The skins maintenance is the same of the classic skis. It must be careful especially when paraffining the flow area without pressing the skins with the hot iron. But it is easy to solve this problem: apply a scotch tape to limit the grip zone. Another advice to make the skins smoothly and fluently, is that you should paraffin even the skin: in this way, it does not get dirty and it has a better glide.
The skis manufactures have understood the potential of this new market and each brand has on the brochure many models, with shorter or longer skins, for a stronger or lower grip and there are brands that produce really competition skis with skins. The proof will be in the pudding!
torna alla lista