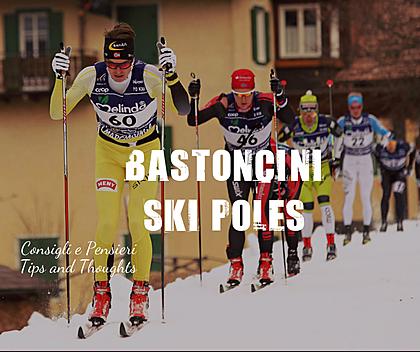 Enzo Macor, technician of the Fiamme Gialle Ski Team, will clarify today a question which is recently raising many questions, doubts and uncertainties: the approval of the maximum pole length proposal in the Classic Technique races.
---
83%: this percentage is causing problems and confusion in the world of long distance races.
During the FIS Autumn Meeting a possible solution to reduce double poling and to protect classical technique and all its aspects has been approved. Double poling is practiced more and more in the popular races as well in the World Cup at the expense of the classical technique. The initiative to reduce the pole length has come from the German Ski Association in order to force the skiers, especially in steep uphills, to use the classics technique and to limit the double poling.
The proposal has the goal to report the length of the poles and the skier: poles must be 83% of body length. The length of the pole is measured from the tip to where the strap enters the pole. For the World Cup races a database has been created with all the athletes and their body height, which is measured with boots on and without them in order to prevent the use of a foot-strap insert: this has really happened in the first races of the season.
Until now, this rule has not yielded any significant results. The maximum pole length rule does not stand alone in the attempt to preserve classic technique. Double poling is practiced from youth categories and there is no hope to reduce it. We are seeing an intensive evolution of technique, maybe not so revolutionary as the emergence of free technique in the mid 80's but we are close.
I also wish to clear up the confusion about the first Italian Granfondo: the 83% body length rule applies to all FIS competitions for skiers who have FIS code and start in the elite group. This is most important not to create unnecessary problems both for the Organising Committees that should make the controls and for the amateur athletes who are training for next races and for Marcialonga.
All we have to do now is to wish you good double poling!
READ ALSO
MARCIALONGA SKIING: HOW TO PLAN THE BEST TRAINING
XC SKIS WITH SKINS: DO THEY REALLY ALLOW GOOD PERFORMANCES?
THE IMPORTANCE OF THE MUSCULAR STRENGHT FOR THE XC SKIING AND FOR THE WELLNESS
THE CALENDAR OF THE MAIN CX SKIING RACES 2016-2017
THE SUPPLEMENT DURING THE TRAINING OR THE RACE
WHAT SHOULD CONTAIN A WAX BOX?
PILATES, AN EXCELLENT TRAINING FOR XC SKIING
THE SECRETS FOR PREPARING FOR A LONG DISTANCE RACE
THE MOTIVATION IN THE ENDURANCE SPORTS
83%, THE PERCENTAGE ON THE POLES THAT STIRS DEBATE
ANTONELLA CONFORTOLA: EXPERIENCE AND ADVICE ON MARCIALONGA
back to list