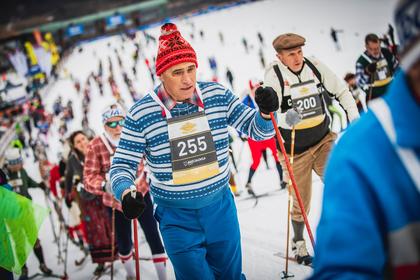 We wonder how it would be facing nowadays the entire 70 km track on the skis that were used int he first editions!
We are talking about the first multi-layer skis made of wood and laminate, wood and plastic or most commonly only wood.
Unders these skis, they would put wax, exactly as today. Many products remain similar to the ones used in the past, to have grip or to slide according to the specific snow condition.
Some important Italian ski-waxing brands were already active in the '70s, or even from the '50s.
Skis and ski-waxing: nightmare and dream of every skier. There is a phrase that our race-director Enzo Macor once wrote in an article and that is still very actual: the job of a skiman is above all based on experience, intuition, method and passion, there is not much about witchcraft or magic... (read the whole article HERE > )
Let's immagine that we are at the start of one of the first editions of Marcialonga: heavy skis, the track is not well defined, (the groomers were for sure not like the ones we do have today), the training is not optimal and we don't know if the ski-wax we put on will be good enough, we only trust the ones who made the job for us.
In Moena the atmosphere is electrifying. There is a lot of friendship, you can hear languages that you had never heard before because tourism is not spread yet. Many are improvising the race, you can see that it is their first time on skis.
The festive atmosphere is everywhere, among participants, supporters, kids running excited along the track.
You do not feel the agonism, there is no exasperation. It is pure magic.
We tried to evoke some of the sensations of the past, but probably the most easy and fascinating way to do so is experiencing them once again for real.
This is possible thanks to Marcialonga Story, the revival event where competitors participate wearing clothing and using gear produced prior to 1976. Since its first edition the event has been a success: participants are enthusiastic and spectators are caught by this historical parade.
The kilometers of the race are 11, not 70, but the sensations that you feel and the images that you see enable a real travel back in time. Even the feeding stations are organized like in the past, as well as the final party.
Even some settings and decorations are original from the first editions. But most important is that the race emotions are the same: there is not much training, skis are heavy, we do not know if the waxing is adequate but therew is a marvellous festive atmosphere of pure magic.
back to list