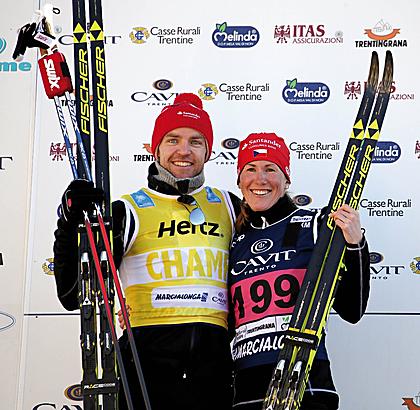 The 44th Marcialonga di Fiemme e Fassa (Italy) held today on the 57-km long track from Mazzin to Cavalese
Tord Asle Gjerdalen wins again ahead of Johan Kjoelstad and Eide Morten Pedersen
Among ladies, Katerina Smutna takes her revenge on Britta Johansson Norgren and Sara Lindborg
Italian Giacomo Gabrielli triumphs at Marcialonga Light


Norwegian Tord Asle Gjerdalen made the history of Marcialonga di Fiemme e Fassa (Trentino region, Italy), held today with 7.541 skiers at the start in Mazzin. No man before had been able to claim three consecutive wins in this legendary cross country skiing marathon. During the race, the strong Norwegian skier adopted an exemplary strategy: He started slowly and progressively closed the gap to the leading group and outdistanced his contenders in the last part, thus taking the first place: "It's great to be here at Marcialonga again and I liked the track very much, the snow was in perfect conditions. My team did a great job and gave me the opportunity of going on with their support. I love competing here". The second and third place went to his fellow countrymen Johan Kjoelstad and Eide Morten Pedersen, for an entirely Norwegian podium.
Among women, Katerina Smutna took her revenge and defeated defending champion Britta Johansson Norgren with a fierce battle in the final metres; third place for Sweden's Sara Lindborg.
Marcialonga Light (33 km) saw the victory of Italian Giacomo Gabrielli, ahead of Russian Aleksey Barannikov and Roberto Gianola, whereas among women the victory went to Sarka Zelenkova (former winner of the special Punto3 Craft combined standing, including the three Marcialonga yearly events, i.e. Skiing, Cycling and Running). Zelenkova won ahead of Lisa Bolzan, Alessandra Da Ros and Anna Bolzan.
It was a spectacular race despite the lack of snow and the organising committee was able to perfectly prepare the track as usual, according to Marcialonga's unique style.
back to list