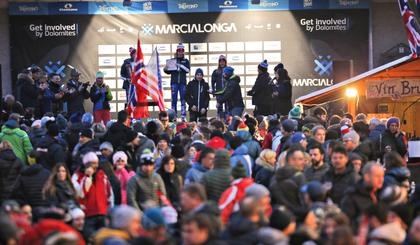 Marcialonga has always been a race that celebrates and supporte everyone: from the first arrived to the last one, along the track and on the final stretch that leads to the Cavalese finish line, the participants are celebrated all like big champions and welcomed by the warmth of spectators, ambracing each skier.
This year, the OC has thought to bring some of this magic and joyful atmosphere to piazza Verdi, the main square where, for the first time, the official prize-giving ceremony in front of an enthusiastic crowd of spectators. Ad aprire la cerimonia sono state le premiazioni della Skirilonga, la combinata che unisce i due eventi valligiani Skiry Trophy (ex Trofeo Topolino) e Marcialonga e quindi unisce grandi e piccini con la passione per lo sci di fondo.
A seguire le premiazioni con i vincitori in campo maschile, Tore Bjorseth Berdal seguito da Tord Asle Gjerdalen e Petter Eliassen, e in campo femminile, Kari Vikhagen Gjeitnes seguita da Astrid Oeyre Slind e Lina Korsgren, anche i più veloci alla Final Climb sulla salita della Cascata premiati dal partner AGN Energia e i più veloci a percorrere l'ultimo KM by Vuerich Service, hanno potuto festeggiare i loro traguardi circondati da una gran atmosfera di festa. Premiati anche il primo italiano classificato Gilberto Panisi del Team Robinson Trentino e, in cooperazione con la federazione di sci Russa Russialoppet, anche i primi atleti russi, premiati dal campione olimpico Alexander Legkov e dal direttore di Russialoppet Georgy Kadikov fra i grandi applausi dei presenti di nazionalità russa. Sul podio sono saliti sei atleti del Russian Winter Team Vylegzhanin Maxim con Shemiakin Alexey sul secondo gradino e Dvoskin Alexey sul terzo, mentre in campo femminile la miglior russa è stata Tsareva Olga, seguita dalle sue compagne di squadra Vlasova Anastasia e Rygalina Anastasia.
Un grande momento di festa che verrà sicuramente riproposto nei prossimi anni nelle stesse modalità, per portare lo sport in piazza e avvicinare i due aspetti agonistico e amatoriale di una manifestazione, perché in fondo dello stesso evento si tratta!
Durante il weekend, inoltre, è stato organizzato un momento di incontro anche per gli appassionati di Worldloppet, la Federazione che raccoglie oltre 130.000 sciatori ogni anno. Gli appassionati si sono raccolti per celebrare i nuovi master, coloro che nel corso della loro carriera sciistica amatoriale hanno completato almeno 10 gare in giro per il mondo collezionando altrettanti timbri sull'apposito passaporto e ricordando la grande passione per lo sci di fondo che supera tutti i confini.
back to list