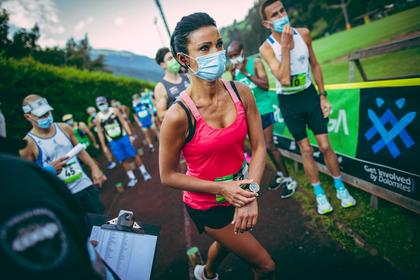 Endurance sports are those sports that train resistance, meaning the human capacity to practice sport activities with high performance for a long time-lapse.
Time represents indeed a fundamental element for this kind of activities. The Marcialonga disciplines are all part of endurance sports and need therefore long training sessions and racing for a longer time than the other disciplines.
Who trains and who takes part to competitions, makes uses more and more often technology to monitor their performance and record their sport activity. The most enthusiastic and technologic of them are equipped with a smartwatch that are now able to measure every single breath and can provide specific data that can be used to plan a more specific training and improve the personal performance. It is also during the race that athletes activate their devices and at the start of a race you can witness a real concert of "bip".
Who does not posses a hig-tech watch, can still count on their smartphone and the several sport apps with similar functions. Hence, the must is "monitor, record, share".
We do agree that these means are very useful, especially to those seeking for a good placement or to improvetheir performance. But how do people not using this technology do? Are they precluded any chance of getting better results? There are still many athletes who prefer not using any technology while doing sport, but base their activity on sensations. Many of them, luckily, do not aim at a resuls and prefer the connection to nature around them rather than the connection to their smartphone.
In a society that focuses on speed, immediacy, results, managing to benefit from prlongued times and harmony with themselves and what surrounds us, is a real privilege.
Let us imagine Marcialonga: on cross-country skis, by bike or on foot you can see mountaing of rare beauty, you cross forests, you breathe fresh and pure air, you hear sounds that you could not hear elsewhere because they are covered by the noise of the everyday life.
We know that we are still talking about a race, but let us put our smartwatch and smartphone aside for a moment and let us forget about the internet connection. We bet that performance too, will benefit from it.
back to list